Odessa Dean Thrasher of Dallas, Texas passed from this life on August 8, 2022. She was born on October 21, 1935, in Wilburton, Okla., to Roy and Ruby (Allen) Mayberry. Odessa married the love of her life Clifford Thrasher in March 1969 in Dallas, Texas. She spent her life taking care of her family and her home. She enjoyed sewing as a past time when she could.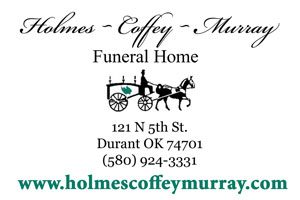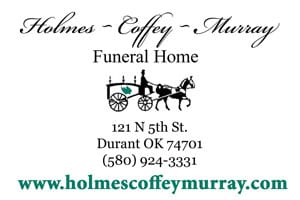 Those left behind to cherish her memory are husband, Clifford Thrasher of Dallas, Texas; daughter, Mary Littlejohn of Memphis, Tenn.; son, Billy Ward and wife Gail of Eudora, Ark.; very special close friends, Debbie Chitsey and Bruce Muller of Dallas, Texas; eight grandchildren; 19 great-grandchildren; three great-great-grandchildren; nephew, Randy Dale Thrasher of Dallas, Texas; sister-in-law, Betty Harkey of Irving, Texas, as well as numerous other family and friends.
Odessa is preceded in death by her parents, Roy and Ruby Mayberry; daughter, Shirley Novem; two sisters, Gwen West and Georgia Kinney; brother, Roy Mayberry; grandson, Jeremy Littlejohn; and great-granddaughter, Aurelia Guzman.
A funeral service for Odessa is planned for 2 p.m. on Friday, August 12, 2022, at Holmes-Coffey-Murray Chapel in Durant, Oklahoma with Pastor Jesse West officiating. Burial is immediately following at Rosehill Cemetery in Calera, Okla.
Services are under the direction of Holmes-Coffey-Murray Funeral Home 121 N. Fifth Ave. in Durant.
www.holmescoffeymurray.com