By Joey McWilliams
DURANT – With Texoma Engraving celebrating five years in business, owners Kevin and Susan Chalk were looking for a way to say, "Thank you!" to the community in which the venture has grown.
They decided on a $1,000 giveaway to a Bryan County non-profit organization. Customers and people in the community in general were given the opportunity to nominate groups and organizations that operate under a 501(c)(3) tax exempt status.
There are 15 options from which people can vote for a non-profit of choice and the winner will receive a $1,000 package from Texoma Engraving, which includes includes getting their logo ready with the right formats and then T-shirts and embroidery, lard signs and decals – different items that are available to promote the organization and will move them forward with more publicity.
The voting closes at midnight on Thursday, Aug. 15.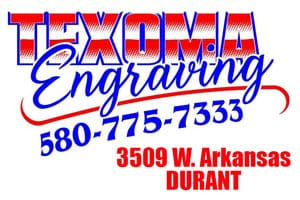 "We just want to thank the community for blessing us and this is the way we chose to give back," owner Susan Chalk said.
People can vote only once and can do so on Instagram, Facebook – and Facebook has a group and a page –  or in store. The final tally will be released at a later date. Here is a link to the Facebook group: CLICK HERE.