Dorothy "Dottie" Magee, of Durant, Okla., passed from this life on Saturday, Sept. 7, 2019 in Durant at the age of 93. She was born on Monday, Aug. 30, 1926 in Oakland, Calif. to John Murray "Jack" and Bertha Aleen (Freeman) Watts.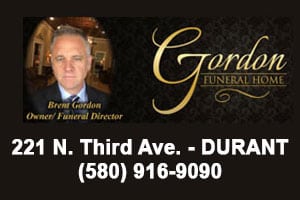 Dottie was an avid gardener who also enjoyed reading, music, travel and spending time with family. She was of the Nazarene faith. She loved crossword puzzles and cross stitch making table cloths.
Dottie married Warren Joseph Magee on April 20, 1947 in Reno, Nevada.
She was preceded in death by her parents; husband Warren Joseph Magee; son Stephen Warren Magee; brothers Burl Watts, Jackie Watts and Danny Watts; sisters Bobbie Andrews and Norma Corriea.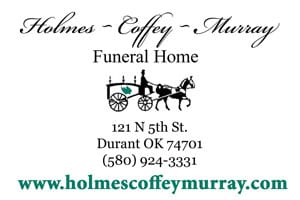 Survivors include daughters: Marsha Ellis and husband Van of Durant, Okla., Pamela Vieira and husband Lawrence of Denair, Calif.; brothers: Howard "Sparky" Watts and wife Pat of Turlock, Calif., Frank Watts of LaGrange, Calif.; sisters Carol Haines and husband Phil of Roseburg, Ore., Arleen Rodriguez of North Hollywood, Calif.; grandson, Bobby Magee of Upland, California; brother-in-law Stan Corriea; granddaughters: Andrea Kirk and husband Chad of Howe, Texas, Lori Curtis and husband David of Granite Bay, Calif., Sherry Glenn and husband Ben of San Carlos, Calif.; 11 great-grandchildren, numerous nieces and nephews.
A Graveside Service will be held 10 a.m. Wednesday, Sept. 11, 2019 at the Gethsemane Cemetery in Caddo, Okla. with Father Carl officiating.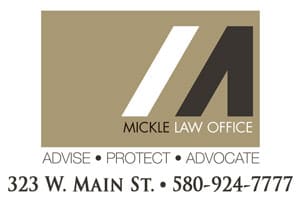 A Memorial Service will be held in Denair, Calif. at the Nazarene Church at a later date.
Arrangements are under the direction of Gordon Funeral Home, 221 N. Third Ave. in Durant.
Phone: (580) 916-9090
www.gordonfh.com