Release
Pamela Gordon, a Trump/Pompeo Conservative, is seeking the Republican nomination for Oklahoma's 2nd Congressional District.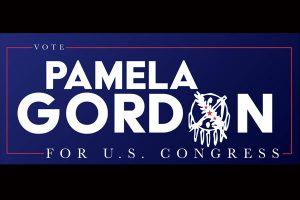 "As a 5th generation Oklahoman, I came from parents who understood solid roots run deep and a life in service to the Lord our God is never wasted, "Gordon said. "They taught me the hard-working values of our community and instilled me that a man's (or woman's) word is the measure of his character. Because of them, and others like them, I grew up knowing what it truly means to be Oklahoma tough.
"I was blessed to be part of the first generation in my family to graduate college and have had a meaningful career in government service as an educator, crime scene investigator, with the United States Marine Corps working with the top brass in the MP field in Quantico, as well as a Military liaison to Washington. Driven by my faith, my family, and my freedom, I have been committed to mission success my entire career. Now, as Biden and Pelosi export our jobs abroad and our freedoms slowly wither, I accept the call to defend our US Constitution as the United States Congresswoman representing Oklahoma's 2nd Congressional District and ask for your vote.
"Washington has been hijacked by radical progressives like AOC and the "squad." I, for one, am tired of liberal politicians thinking it's all about them and not about the people they represent. Pelosi's leadership in Congress has given us partisan investigations, a sham impeachment, as well as bills focused on delivering socialism to America. We need to send someone to Washington who will wrangle the "out of touch" political elites. We have weak conservatives representing us in Congress; it is time for strength and experience in Washington as an American not a politician. I have that experience. I unapologetically support President Trump's America First Agenda and most importantly, fight back on the attempts to change the fabric of our nation."
Pamela Gordon grew up, went to high school and college, and started her family in the heart of Choctaw Nation. Pam has proven herself a leader and a true testament to the American Dream we all enjoy. With America's future, and the future of so many others in Eastern Oklahoma on the line, it is time to make Oklahoma Tough in Congress.