It's the debut of a new regular feature column on the Bryan County Patriot!
The folks at Three Rivers Pecans Fudge Factory and Amish Store in Calera will be bringing us ideas each week to make great food at home.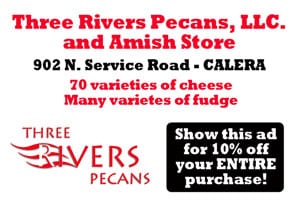 "We want people to see and to try all these recipes," Three Rivers Pecans owner Rebecca Sandmann said. "We want them simple. We want them tasty. And we want homemade. People have quit cooking in their homes and we want to bring it back."
Three Rivers Pecans Fudge Factory and Amish Store is a Made In Oklahoma company and makes many foods fresh in the store, which include candies, more than 100 types of fudge, cinnamon rolls from scratch and their famous toffee. Everything they make is without preservatives.
"Of course, we always have great ingredients to add to your recipes, including our farm-fresh pecans, and our toffee you can crumble up and crush up into cookies and into cakes."
Our first installment of Ms. Becky's Recipes is for PIE BARS.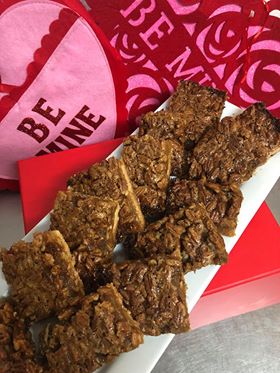 Ingredients:
2C All-Purpose Flour
1/3 C Sugar
1/4 teas Salt
3/4 C Salted Butter
Filling:
4 Large Eggs
1 1/2 C Corn Syrup
1 1/2 C Sugar
3 Tbs Butter
1 1/2 teas Vanilla
1 1/2 teas Flour
3 C Pecans from Three Rivers Pecans
Directions:
Preheat oven to 325. In large bowl, mix flour, sugar and salt. Cut the cold butter in the dry ingredients until it resembles course crumbles. Press in line 15x10x2-inch pan (cake pan). I also spray my parchment paper with cooking spray. Dollar General brand is the best spray, in my opinion. Bake until lightly golden or about 20 minutes.
While this bakes, prepare your filling. Use a whisk to ensure everything is mixed well. Mix in the pecans last. Pour this over your partially-baked crust and place back in the oven.
Bake an additional 25-30 minutes. The filling needs to be set. Allow to cool completely. Now you can cut it into bars. I like mine about 2 inches by 2 inches.