By Kristen Banks
It was the summer of '98. I was just out of high school and was really interested in learning to quilt. I had gotten a book about quilting for my 18th birthday and I was going to spend the rest of the summer learning how. After reading the book cover to cover, I realized that quilting was way to hard for me. Or so I thought at the time.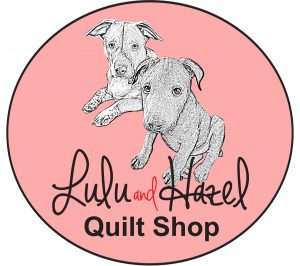 I decided I needed to start with something easier. My Grandma had recently told me stories about seeing "Yo-Yo Quilts" as a little girl. For those of you that don't know, a Yo-Yo Quilt is to a traditional quilt like what a fried pie is to the kind of pie you see at Thanksgiving dinner. It's similar but very different.
Yo-Yo quilts became popular as a good way of using up tiny scraps of fabric around the 1920's-40's. Yo-Yo Quilts are not a quilt at all in the traditional since. They are more of a coverlet. They are only comprised of one layer, instead of three, and aren't even "quilted" at all. Yo-Yo's are made of cinching up small fabric discs into puffy little sacks. All of the edges are already enclosed in the little sack, so you don't really need to quilt it.
You then sew all of the little Yo-Yo's together into whatever pattern you want. There are little holes in between where the Yo-Yo's join up. It looks similar to a chrocheted afghan when you are finished. I was intrigued, and thought this seemed like a much simpler project to start. I was wrong. This should really have been called "Things I did when I was young and stupid."
I gathered up a bunch of scrap fabric, some left over from my High School Home Economics class, and others scavenged from my Mom's fabric stash. I had a paper pattern piece and some basic instructions that my Grandma had come up with somewhere. Back in those days the internet was still "new fangled". Most people didn't have it in their homes at all and you didn't just go run "print something off".
Being young, my sewing box consisted of things given to me or bought at garage sales. I took the first needle I saw and a spool of white all purpose Coats and Clark thread, and started making Yo-Yo's. In those days I didn't use a thimble. I thought them awkward – again so wrong. I wore a tiny hole in my finger that I swear hurt for two years. I always wear a thimble now when I do any kind of hand sewing. Now It feels awkward to not wear one. With age comes wisdom and fingers without holes.
I had a lot of fun at first. I took all of my brightly colored Yo-Yo's and put them in a basket. I remember being super-excited as those Yo-Yo's started mounding up and spilling out of the basket. I finally got enough together to make a whole quilt. I started sewing them together and was feeling pretty proud of myself as my "quilt" took shape. Then something bad happened. As the quilt got heavier my seams started coming apart from the added drag and weight of additional Yo-Yo's.
I couldn't figure out what I had done wrong. I don't remember how I found out, but someone clued me in that I needed to use "hand quilting" thread not "all purpose" thread, and that it would be a good idea to wax the thread with bee's wax first for added strength. I did and it worked like a charm. The crisis was averted, except that I had to go back and reinforce all those little seams that I had sewn once already.
The first quilt went rather quickly and I felt really accomplished when I finished. I made a gift of it to my Grandma since she had given me the idea for it in the first place. I had a small basketful of Yo-Yo's leftover from the first quilt, so I decided to sew them all together with the thought that I'd gradually add to it and eventually come up with another quilt. My Aunt saw what I was working on and thought she'd like a Yo-Yo Quilt too.
Since I was now a "Yo-Yo Expert" with exactly one quilt under my belt, this was going to be no sweat. You could fill up a book with all the things I was wrong about at this time in my life.
So, I started furiously making Yo-Yo's again. She had originally asked for one that would cover the top of her Queen sized bed and hang over the sides. I didn't know what a "full drop" meant back then, but I sure do now. I said "No problem!". It was a problem, a big problem.
Long story short, I gave her that Queen with a full drop and there are over 4,000 Yo-Yo's in that quilt. I would sew for a couple of months and then take it back to her house to fit it on her bed and it would always be a couple of rows too short. I started thinking that I was losing my mind because no matter how many Yo-Yo's I added I was, you guessed it, two rows short. The last time I left her house with it I went home and actually cried. This is most commonly refered to as "The Summer Kristen Went Yo-Yo" in our family. It's also probably part of the reason I wear glasses today.
You'd think that would be it, wouldn't you? Oh no, see, kids are stupid. They do illogical things. I made a third quilt because, after all, Mom needed one too. I made Yo-Yo quilts for TWO SOLID YEARS. I barely made it through that third, much smaller quilt, with my sanity intact. That is when I retired from making Yo-Yo quilts.
Yo-Yo quilts can actually be a lot of fun and are a great way to use up extra scraps. They are interesting, conversation pieces with a neat history. I think anyone would enjoy making a Yo-Yo Quilt, but just one….a really small one…just so long as they don't drive you mad and turn you into one.
Every Quilter has a story and we'd like to hear yours! Send us your stories, tips, and ideas to luluandhazel@yahoo.com