Shamrock Bank
DURANT – Throughout the month of March, Shamrock Bank hosted its annual March Giveaway promotion and there was a lot of green involved for a good cause! In recent years, bank leaders and employee-owners made the decision to take their bank's giveaway beyond the typical prizes of ice chests and grills. They chose to use their annual promotional push to give back to the small businesses that are so vital to the communities they serve across Oklahoma.
At each of the eight bank locations, the public could enter to win $500 for themselves, plus $100 for the lucky local business they listed on their entry form. In addition to entering at one of the bank locations, for an extra entry, participants could share their love for local small businesses by mentioning them on social media or attending one of the five community events Shamrock Bank hosted.
"We believe it's important to invest in the small businesses that make our communities special," said Curtis Armor, Board Director and SVP of Shamrock Bank. "Every town has small businesses that are treasures and we don't want them to be overlooked. At Shamrock Bank, we are committed to using the resources we have at our community bank to spread awareness of local businesses and support them."
In order to connect their communities with local small businesses, Shamrock Bank partnered with local organizations such as the Chamber of Commerce and Main Street, to sponsor five free, fun events at local Oklahoma businesses. From green craft beer at Lost Street Brewing Co., shamrock cookies at Caked Up, and martinis at Roadhouse Bar & Grill, the celebrations in Durant centered on St. Patrick's Day. In Altus, attendees enjoyed complimentary coffee at Just Brew It Coffee House and in Mountain View, the public found free fountain drinks at E-Z Out Drive-Thru.
"It's evident to us that our communities truly care about small businesses," said Chelsea Bradshaw, VP. "This year we saw our giveaway participation rate nearly triple. People are eager to support local businesses and we were happy to provide them that opportunity."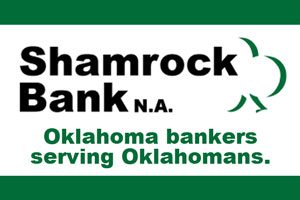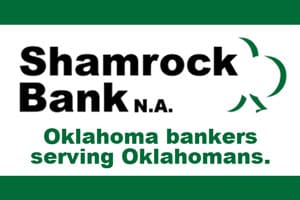 On March 31, Shamrock Bank announced the eight individual winners and the eight small business winners, to which they gave away nearly $5,000. During the month of April, Shamrock will be recognizing the 187 small businesses across Oklahoma that were nominated by giveaway participants.
For more information about Shamrock Bank and how they are committed to community, please visit ShamrockBank.com.