By Joey McWilliams
DURANT – Former Southeastern football player Kaymon Farmer has been known for the past four years for receiving.
He's ready to show the community he likes to give.
The all-time career leader is receptions for the Savage Storm founded the organization K9ology Life Dawg. Its first event in Durant will be the Unlock the Block 2 party on Saturday, Sept. 2, at Carl Albert Park.
"It's a family environment block party that brings people together to enhance and to give back to the community," Farmer said. "We will have a lot of activities to keep people active and to bring some family fun into the community. Activities such as a speed camp, a talent show for the kids who may not be athletes but still want to display their talents because everybody has a talent, bounce houses, face painting and all types of games for the kids.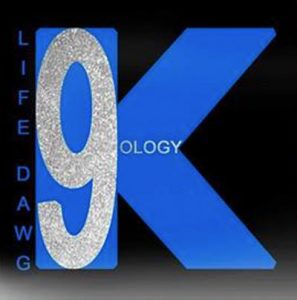 "For the adults that morning, we'll have a yoga session and a boot camp session, as well, for those who want to get active, while their kids are getting active. Later on in the day, we'll have food trucks and vendors and live music."
Farmer debuted the idea with the first Unlock the Block party, which he held in his hometown of Pittsburg, Texas. And he said that he and those who have joined with him in the organization are passionate about this.
"It's a great thing to be able to give back to Durant, because Durant has very good to me," Farmer said. "Durant will always be a place where I will invest my heart and my time.
"We're definitely going to deliver a great event. If you want any kind of positivity of any kind in your life, come on out."
K9ology (pronounced kay-naw-lo-gee) Life Dawg is the brand and Farmer said he came up with the idea earlier this year when he was at the Sugar Bowl. He was named as one of 23 football players throughout all divisions of the NCAA and NAIA named to the Allstate Good Works team, which recognizes college football players who dedicate their time to bettering the community and the lives of others.
"It all came out when my wife and I were in New Orleans," Farmer said. "We were around 22 other guys that were on the same page we were on. Just hearing their stories and hearing how they all came together made me realize I had to start something, some kind of organization to get that type of people all together.
"If we get together and invest in the community and the youth and help them grow up, then we have not just 23 of them, but hundreds of them, there's no telling where we can take it. So I started K9ology Life Dawg and I'm giving people nine principles that I live by and that have gotten me this far."
Those principles are: loving others, appreciating life, adding value to others' lives, living with a purpose, being positive, being humble, daily growth, believing all things are possible and embracing your uniqueness.
"That last one is big because there are a lot of people that want to be somebody else these days," Farmer said. "Growing up and becoming who you are – once you see who you really are, you see things totally different."
Lane Luebber, who graduated from Durant High School in 2014 and works at the new Benjamin Moore location in Durant, is among those who have connected with Farmer to make K9ology Life Dawg grow. Luebber said his role right now is refining and growing ideas alongside Farmer.
"I'm a big part of organizing the volunteers and trying to unify and get everything connected," Luebber said. "And we're trying to make sure we're going to the right places."
Luebber will also be a part of the some of the next steps the organization takes to be involved in the community.
"We'll establish these principles through events," Farmer said. "We'll have the Unlock the Block, and later on we'll have clothing, speaking events where I'll be speaking, Lane will be speaking and others, too. Also after that we plan on getting into books and film. We want to go to different communities and plant these seeds."
Unlock the Block 2 will be at Carl Albert Park on Gail Farrell Drive from 8 a.m. to 6 p.m on the Saturday of Labor Day Weekend. Admission is free.