DURANT – Bryan County continues to grow throughout and the next business to open in Durant is Raintree Shopping.
Located at 824 N. First Ave., Raintree Shopping is set to officially be ready to serve the public on Saturday.
Madison Johnson is one of the store's owners who has been working tirelessly this past week to get the establishment ready for its Saturday opening.
"This is a wholesale liquidation store," Johnson said. "You may find some of these products somewhere else, but we're going to have the cheapest prices on each product.
"We're selling everything – kitchenware, toys, outdoor, fine China, sunglasses, power tools, furniture – everything. And mystery boxes. We have $75 and $45 mystery boxes."
Danny Khoury, Madison's husband, said the business is getting products from Amazon, Walmart, Wayfair and more than 12 other establishments.
"We're looking to get products fro more suppliers, as well, including places in Dallas and Houston," Khoury said.
Danny and Madison are opening the business in partnership with Wu Ye and his wife Gui, who own and operate Asian Gourmet in Durant.
Raintree Shopping had a soft opening on Thursday evening and Khoury said the response was great.
"We opened for just two hours and had more than 30 customers to just stop by. And people were really excited about the mystery boxes because there is nothing like this around the area.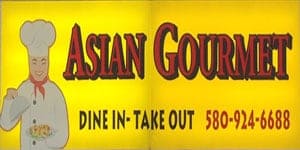 "A lot of people opened their mystery boxes inside the store and they got it for $45 but the value inside was more than $200, so they were happy."
Khoury encouraged people to stop by and check out the store.
"And I want to thank everyone for their support on our Facebook page and if you haven't followed us yet there, please go there and follow us."
Raintree Shopping will Saturday, July 1, and will be open from 11 a.m. until 7 p.m. on their inaugural day.