By Kristen Banks
Quilters come with strings attached.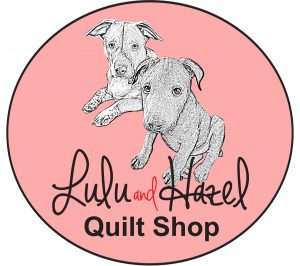 Now I'm not talking about the fact that they pull at your heart strings with their amazing kindness. And even though quilters need many, many tools and supplies to fund their 'habit', I'm also not talking about the need to tighten up the purse strings either. Although their husbands might say otherwise.
I'm talking about literal strings. It is impossible for me to complete a quilt project without my person being covered in string. With a snip snip here and a snip snip there, by the end of the day I'm wound up so tight I start looking like a spool of thread myself. I might have bits in my hair, on my shoes, and I certainly have hundreds covering my clothes from top to bottom as well.
I was going to supper the other night after work, and my Mom started furiously picking pieces off of me. She said in an exasperated tone, "No one would understand this if they didn't know you."
I thought that was pretty funny, because I had never thought about what other people were thinking about my stringy appearance. I looked a little like Pig Pen from the Peanuts comics, but instead of a dust cloud, I had tiny strands covering my whole outfit as if I'd come through some kind of cotton confetti parade. To make matters worse, as I walked, I left a trail of fiber shrapnel behind me.
I think someone should develop a device that consists of two giant lint rollers that are rotating, one on either side, that quilters could walk through. It would be kind of like an automatic car wash. At the end of the day, quilters wouldn't have to stress over lint removal they could just put in their coins and walk on through. They could even come up with a clever name for it like " Relax and Unwind."
Then there is the matter of the homes and sewing rooms. It doesn't matter how many times I vacuum, five minutes later my floors are covered in string and bits of fabric. Whether you have wood, tile or laminate, it's all just shag carpeting by the end of a feisty day of quilting.
I would also wager that string accumulation is a good way to judge project success and enthusiasm. If a quilter walks away from her sewing machine looking all neat and tidy you can imagine things have not gone well. If things are satisfactory, she'll be there a long long time just 'sewing up a storm" – a string storm that is. And she may look a little unkempt when she's through.
So, If you happen to see a lady looking a little disheveled and covered in string don't be alarmed or perplexed. Just give her a smile and a high five because she's just had a 'good game.' And that's a wrap.
Every Quilter has a story and we'd like to hear yours! Send us your stories, tips, and ideas to luluandhazel@yahoo.com