By Joey McWilliams
BRYAN COUNTY – The Caddo fast-pitch softball team will get its first home game of 2017 on Monday afternoon, but the Lady Bruins have fared well at a pair of neutral sites so far this season.
Caddo took a pair of games at Caney to open the year. The Lady Bruins then headed southeast within the county and went 7-1 at the Rock Creek Tournament. CHS has won six straight and sit at 9-1 coming into today's home contest with Bennington.
Head coach Dustin McKay said his team has played well so far.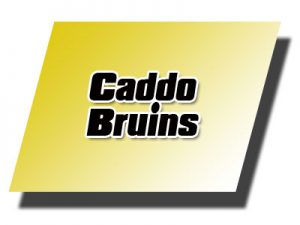 "We're a relatively young team and we had young girls step up and play well," McKay said. "We had a tough loss on Thursday against Ringling, but bounced back and beat Rattan and just showed a lot of resilience for our girls to bounce back and play in five games on Saturday against a lot of really good teams."
Coming up through the losers' bracket of the Rock Creek Tournament meant five games in one day. The Lady Bruins beat Morris, 4-1; got revenge on Ringling, 7-3; shut out Tushka, 3-0; got past Kingston, 6-4; edged Silo, 3-2. The win over the Lady Rebels forced the 'if necessary' game for the championship of the tournament, but the game was called due to the weather.
The two teams will use their regular season matchup in September as the championship game.
"We had some things go our way and were fortunate enough to be the home team and be in the ballgame in the last inning and we walked off a couple of those – against Silo and against Kingston," McKay said. "We have a long ways to go yet."
Freshman Karlee Robison hit .500 for the weekend with a homerun and senior Tanna Hightower went 8-for-11 on Saturday alone.
Freshman Kylee Anderson got the win in four of the five Saturday games, throwing more than 280 pitches on the day.
"She's played lots of travel ball, so she's used to long weekends and long days," McKay said. "So we used her where we saw fit.
"And we were going to throw our senior on the championship game and let our defense go to work. Katie Harris does a really good job for us in the circle as well."
Following the intra-county matchup with Bennington on Monday, Caddo hosts Savanna (5-1) and Allen (4-0) on Tuesday.