Fred Ownbey, of Durant, Okla., passed from this life on Thursday, April 21, 2022 at the age of 93. He was born on Thursday, October 11, 1928 at the family homestead in Harper County, Okla., to Alfred Ray and Laura Clara (Hinther) Ownbey.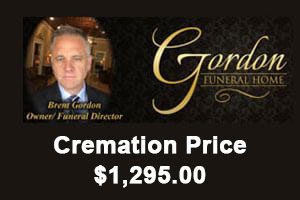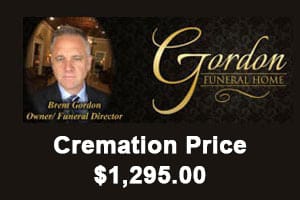 He married the love of his love, Vera Marie (Zinn) Ownbey on June 18, 1950 in Buffalo, Okla. He lived in Ponca City, Okla., for 66 years and was a longtime member of the Community Christian Church where he had served as a board member and Deacon.
He lived for and loved his family dearly, especially his wife Vera for more than 71 years. He enjoyed hand crafting pistol grips with his amazing woodworking skills, teaching his twin daughters to be award winning rifle marksman, collecting guns which he passed on to his grandsons, growing the perfect tomato, flying airplanes and keeping up with all of his grand and great grand children's extracurricular activities. He passed his love of hunting, guns, fishing and woodworking on to his grandchildren and great grandchildren.
He was preceded in death by his parents, Alfred Ray and Laura Clara (Hinther) Ownbey; in-laws, Ivan and Mabel Zinn; sisters, Martha Ownbey and Betty Ownbey; brother, Billy Ownbey; sister in-law, Gay Zinn; brother in-law, Jack Wirtz, and grandson, John Michael.
Survivors include his wife, Vera Marie (Zinn) Ownbey of the home; daughters, Carolyn Holloran and husband Jim of Oklahoma City, Okla., Marilyn Mackey and husband Rick of Durant, Okla.; sister, Bertha Mae Wirtz of Austin, Texas; brother-in-law, Archie Zinn of Buffalo, Okla.; grandsons, Derick Covington and wife Margaret of Spring, Texas, Lucas Covington and wife Molly of Albuquerque, N.M., Eric Covington and wife Melissa of Yukon, Okla., Brett Hayes and wife Kila of Kingston, Okla., Jason Mackey and wife Michelle of Durant, Okla., Aaron Mackey and wife Dani of Durant, Okla.; granddaughter, Teresa Golden and husband Jason of Kingston, Okla.; 18 great-grandchildren: Megan, Ryan, Hayley, Joey, Sydney, Katie, John, Grace, Aubrey, Bryce, Jared, Paden, Jase, Jasey, Jolie, Jacoby, Ian, Jake; five great-great-grandchildren: Aloura, Lincoln, Roman, Brooks and Jensen as well as numerous nieces, nephews and other extended family.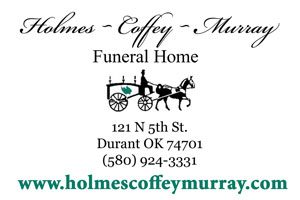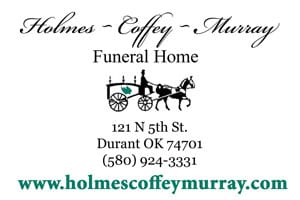 A memorial will be held at 2 p.m. on Monday, April 25, 2022 at The Monterey Chapel, 224 S. Ninth Ave. in Durant, Okla.; officiated by Tom Howard, minister of Ponca City Community Christian Church.
A reception for friends and family will immediately follow the service at Journey Well, 123 W. Main Street in Durant.
Funeral arrangements are under the direction of Gordon Funeral Home, 221 N. Third Ave. in Durant.
Phone: (580) 916-9090
www.gordonfh.com