DURANT – On Saturday, the South Eastern Oklahoma Band Directors Association held it performance for the 2018-2019 All-District clinic for this year.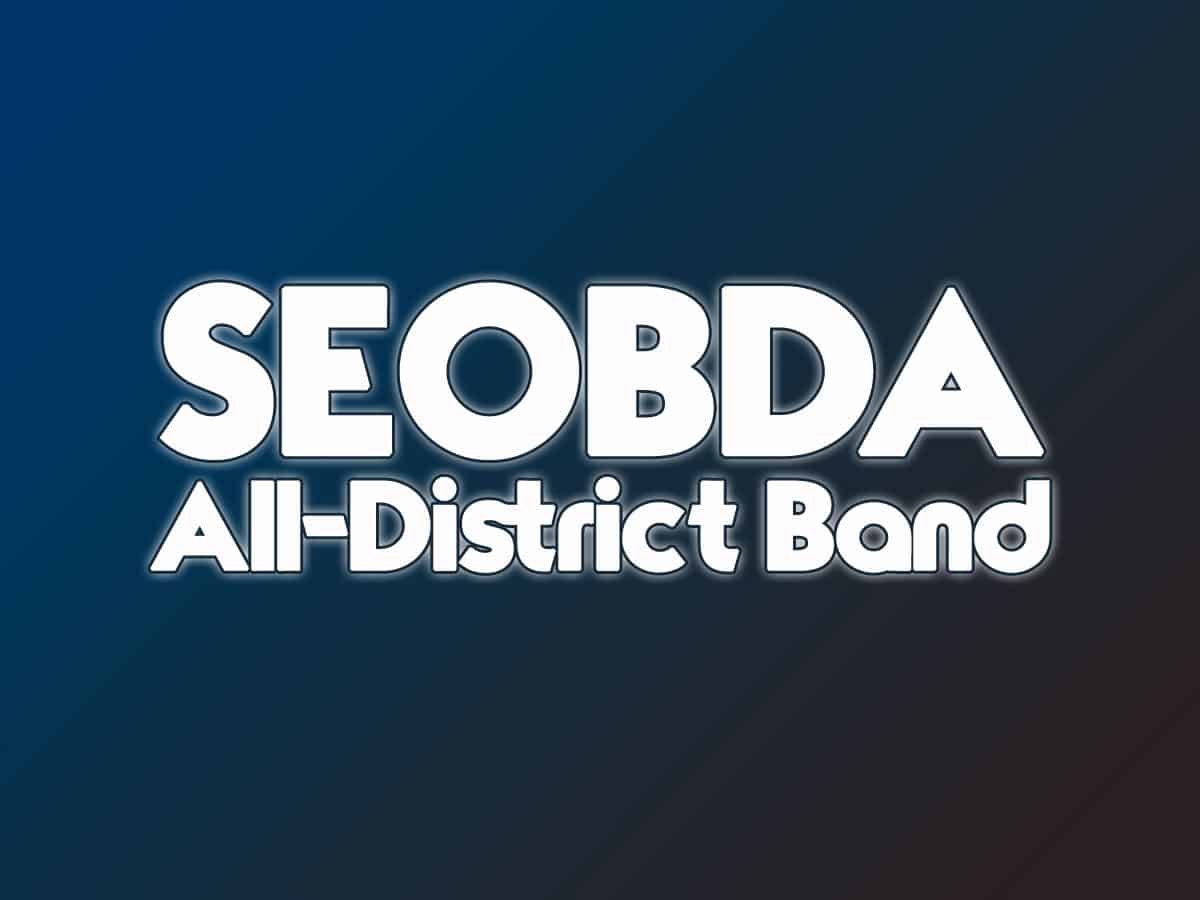 Band members, under the direction of Chris Gregg and Leslie Gregg, Derek Fleeman and Chris Dickson, participated in an audition in November and many were selected to be a part of the All-District Bands – High School, Eighth/Ninth Grade and Seventh Grade bands – with more selected as alternates.
Students from many schools around the southeastern Oklahoma area participated. Here is a list of the Durant students involved.
HIGH SCHOOL BAND
Oboe
Chloe Cagle
Mindy Corbin
Natalie Garkin
Flute
Mindy Corbin
Natalie Gaskill
Andrea Robinson, Alt.
Shawna Morrow, Alt.
Oboe
Elisabeth Boman
Bassoon
Vivian Taylor
B♭ Clarinet
Lauren Collins
Madison Layman
Maria Gonzalez
Mackenzie Layman
Shaylie Ingram
Jayden McClure, Alt.
Mattie Bryant, Alt.
Bass Clarinet
Brooklyn Pilgrim
Cinthia Terron, Alt.
Alto Saxophone
Kelsie King
Paige Farley, Alt.
Trumpet
Noah Sicking
Brenden Buntz
Kelsie Cook
Avery Scarberry
Sarah Rogers
Brady Holaday, Alt.
Dylan Lamb, Alt.
French Horn
Alex Langley
Troyce Hill
Darian Nelson, Alt.
Brady Holaday, Alt.
Trombone
Braden Raines
Riley Royal, Alt.
Baritone
Daxton Chapman
Sarah Chloupek
Raven Whitfield
Tuba
Michael Dixon
Joel Langley
Kaylin Mize, Alt.
Aiden Couch, Alt.
Percussion
Cameron Allivand
EIGHTH/NINTH GRADE BAND
Flute
Abigail Haney
Ariana Garcia
Hannah Feltman, Alt.
Oboe
Ivy Moore
B♭ Clarinet
Brooklyn Barron
Jayden Keyes
Ayla Parsons
Shyler Ingram
Bass Clarinet
Landon Smith
Katelyn Calhoun
Alto Saxophone
Brinleigh Wandel, Alt.
Tenor Saxophone
Bryleigh Pilgreen
Riley Cook
Baritone Saxophone
Jake Baker
Trumpet
Kaitlin Willis
Kenzie Singleton
Lydia Raines
Abigail Hunkapillar
Mitch Washington
Elizabeth McKinzie, Alt.
French Horn
Sarah Akin
Quillan Taylor
Faith Hilburn
Dylan Nelson
Trombone
Drew Hamil
Bryan Gray
Ryan Counts
Robbie Turner
Baritone
Sonny Mathis
Parker Moore
Kashis Wilson
Joshua Chavez, Alt.
Tuba
Kensee Burkett
Tyler Wesley
SEVENTH GRADE BAND
Flute
Jamela Shahab
Nora Wagner
Breanna Thompson
Skylarr Tiffie, Alt.
Oboe
Bellamy Knight
Abigail Leslie
Alto Saxophone
Annika Ferguson
Maddox Hall
Tanner Pearcy, Alt.
Trumpet
Jayden Collins
Madison Leslie
Jackson Tiffie
Trombone
Connor Wilkes
Lily Garcia
Baritone
Eric Rivera-Hoffman
Cylas Daniel
Crew Whitfield
Ollie Simpson
Tuba
Jayce Butler