Doilless "Dee" (Horner) Cox, was born October 3, 1934, to John and Ollie Mae Horner in Manning, Okla. On July 2, 2023, after a short illness, Dee passed away peacefully at the age of 88.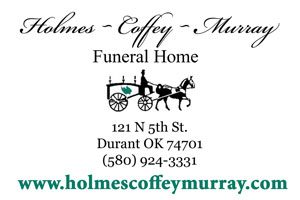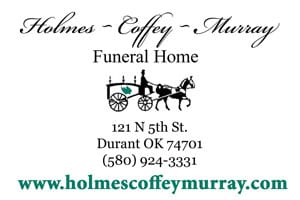 Dee was a joy to all who knew her, she was a firm yet loving mother. She began working outside the home in 1959 while raising children. She had the ability to rise to the top at each and every job. Once she retired, she became a successful business owner. She loved her children and especially her grandchildren. She was a vivacious defender of the ones she loved with all of her body and soul. As a mother and a Nannie, she was a protector, a safe place, a gentle hand and a firm hand and she was always there for her family. Her celebration of life is a gift to all of us who loved her.
She is preceded in death by her husband, James Wayne Cox; her parents, John and Ollie Horner; her stepfather, Lewis Chappell and siblings, Lawanda Wasserman, Johnny Horner, and Charles Horner.
She is survived by her daughters, Delois Phillips and Julie Rorick, both of Durant, Okla.; grandchildren: Leah and Sloan Bennett of Mount Vernon, Texas, Joshua Rorick of Calera, Okla., Kristi Gaskill and husband Mike of Denison, Texas, Elizabeth Ellis and husband Brandon of Durant, Okla., Amanda Gage and husband Joshua of Mead, Okla., and Dilan Phillips and Meghan Bruce of Durant, Okla.; sisters, Barbara Shinn of Tennessee, Kaye Koonce, and husband Wayne of Fairfield, Texas; as well as many other nieces and nephews, 14 great-grandchildren, and five great-great-grandchildren.
The family would like to thank Guardian Hospice and Calera Manor for the extraordinary care that was given to Dee.
Funeral services were held on Saturday, July 8, 2023, at Brown's Funeral Service of Durant, Okla. She was laid to rest at Bennington Cemetery next to her late husband James Cox.
Serving as pallbearers: Sloan Bennett, Joshua Rorick, Dilan Phillips, Cole Gaskill, Joshua Gage, and Brandon Ellis.
Services are under the direction of Brown's Funeral Service of Durant;