Dalton James Farrell, a cherished son, father, brother, and grandson, left this life too soon on April 26, 2022. He was born in Durant, Okla. to Jerrell Wayne Farrell and Frances Mae (Fannin) Farrell.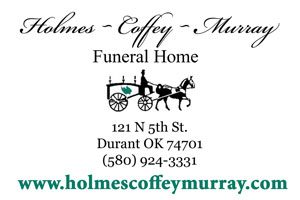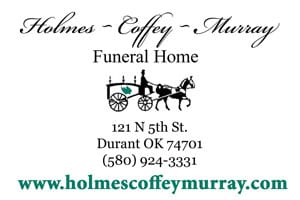 Dalton was a member of the Victory Life Church. He was a true outdoorsman, he enjoyed hunting in the woods on cool fall days, the quiet solitude of fishing, and especially riding ATV's. Dalton loved being with his friends and family, but he especially loved being with his daughter, Abigail.
Dalton is survived by his daughter, Abigail Farrell of Durant, Okla.; mom, Frances Farrell of Calera, Okla.; dad, Jerrell Farrell of Bennington, Okla.; siblings, Jerred Farrell of Bennington, Okla., and Brittany Farrell of Angleton, Texas; grandparents, Kathy Townsend of Bennington, Okla., Jerry Farrell of Colbert, Okla., and by numerous aunts, uncles, and cousins.
Dalton was preceded in death by Grandpa, James Fannin, and Grandparents, A.J. and Doris Kirk.
Family hour will be from 3-4 p.m. on Sunday, May 1, 2022, at the Holmes~Coffey~Murray Funeral Home, 121 N. Fifth Ave. in Durant, Okla.
A celebration of his life will be at 10 a.m. on Monday, May 2, 2022, at the Victory Life Church in Durant. His final earthly resting place will be the Rosehill Cemetery in Calera with Zach Bray, Noe Alaniz, Leslie Davis, Sam Welch, Connor Harrison, and Gavin Rudolf as his pallbearers, his honorary pallbearers will be Christian McGowan, Jerred Farrell, and Chase Pyron.
Services are under the direction of Holmes~Coffey~Murray Funeral Home in Durant, Okla. www.holmescoffeymurray.com