DURANT – Many students in the first and second grades have met their Accelerated Reading Goals during the first semester of the 2018-2019 academic year.
Here are those students with pictures and the names listed below.
FIRST GRADE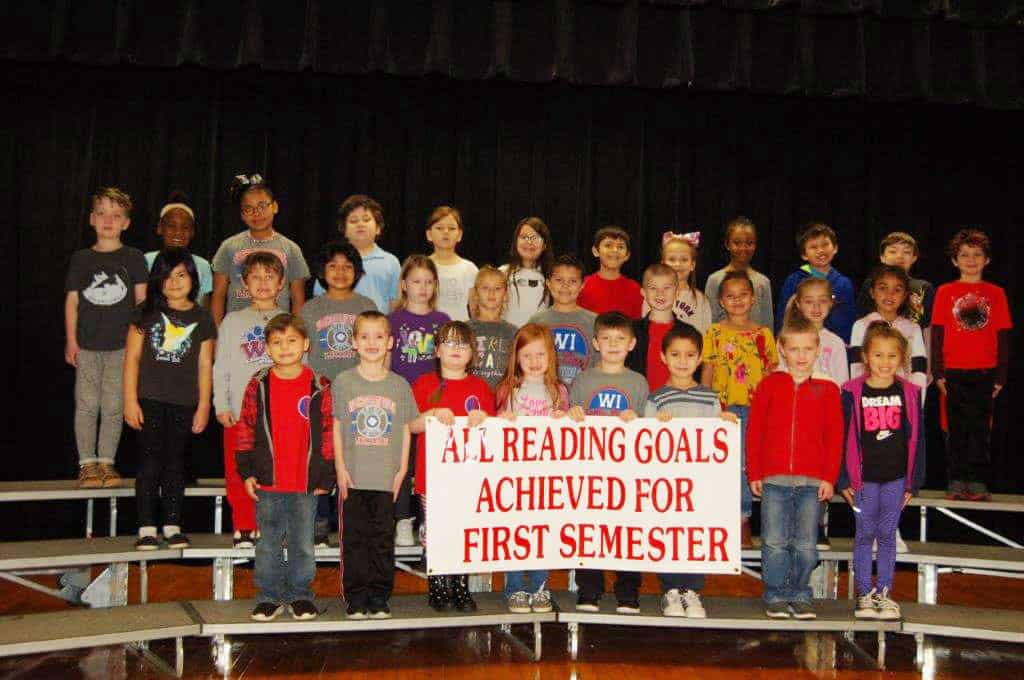 Top Row – Finn Horner, Lynia Lewis, Auniya Donaldson, Mathayus Durant, Kaylee Stacy, Bentleigh Oliver, Doedalus Lawrence, Lilia Brittingham, Zariyah Turner, DJ Donaldson, Matthew Hanna and Gunner Laborico.
Middle Row – Ilese Barnett, Karson Seidel, Hector Garcia, Brihanna Little, Jasmine Moore, Case Inselman, Jacob Driver, Hayden Robinson, Marlee Burr and Sky St. John.
Bottom Row – Jackson Jones, Elijah Hankins, Taryn Cave, Kinsley Odom, Ben Green, Jose Espericueta, Cole Parker and Kinsley Coats.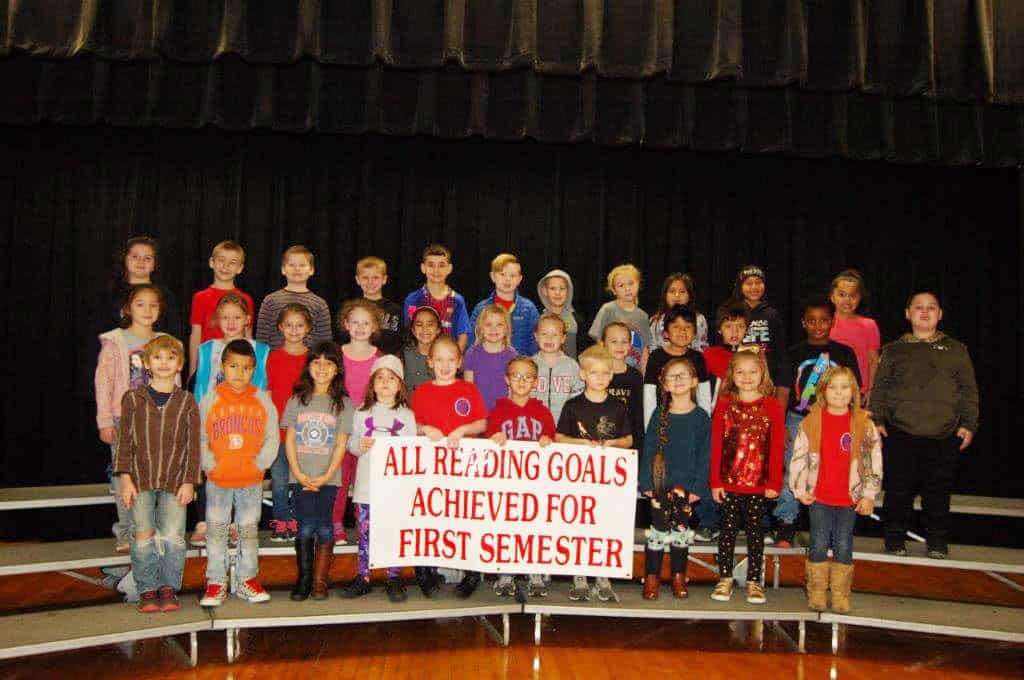 Top Row – Aspen Thurman, Landon Marceaux, Gavin Ridenour, Kyden Trobaugh, Zane Willingham, Reece Cantrell, Jaxon Osuna, Rayleigh Boston, Rayelynn Canul, Tierra Williams and Mia Wilson.
Middle Row – Jewel Hickey, Paisley Henson, Marley Coy, Britlee Burgess, Lailya Wilson, Emma Jo Berkley, Brooklyn Clonts, Jazlynn Boydstun, Angel Salas, Maurice Williams, Ayden Steen and Austen Gray.
Bottom Row – Jovi Loyd, Nathan Coody, Laiyla Almaguer, Wisdom Davis, Aubree Comeaux, Hudson Hamilton, Lane Taylor, Leah Smith, Maggie Dunn and Roxann Martin. Not Pictured – Evan Coker.
SECOND GRADE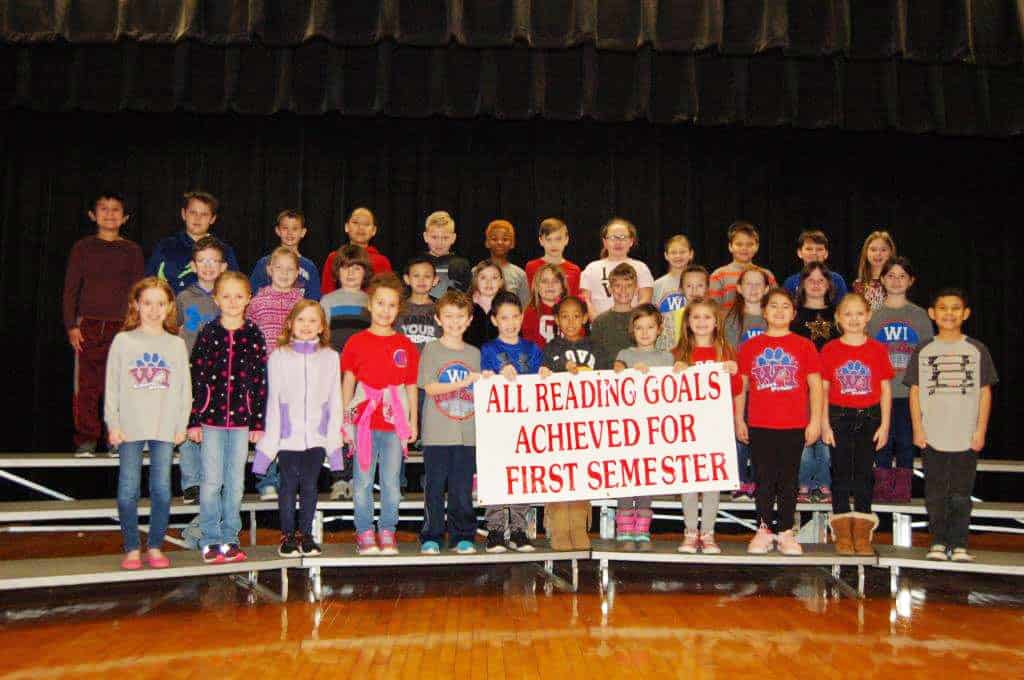 Top Row – Traison Tom, Liam Crasley, Connor Burns, Aleikae Theis, Carson Alberdo, Za'mon Crockett, Draegan Baker, Berkeley Clymore, Kyan French, Asher Oliver, Ashton Parsons and Magnolia Moore.
Middle Row – Brody Webber, Paisley Dollar, Odin Abbott, Jack Fouse, Bailey Mullins, River Meyer, Cooper Godfrey, Kamryn Brooks, Jovie Moore, Zoey Chick and Ryan Uber.
Bottom Row – Ansleigh Watson, Teanna Nix, Katelyn Hitchcock, Zoe Alexander, Ragan Green, Damion Webb, Miranda Freeman, Cordelia Hurwitz, Scarlett Pena, Samara Johnson, Jemma Jenson and Frankie Ortega. Not Pictured – Jackie Bledsoe, Riley Cobb, Cody Harlin, Damara Zuniga, Madison Trice, Vivian Shubert, Michelle Padgett, Lucy DeYoung, Archer Scarberry, Gracelyn Cooper, Haidyn Lyon and Shawn Buchanan.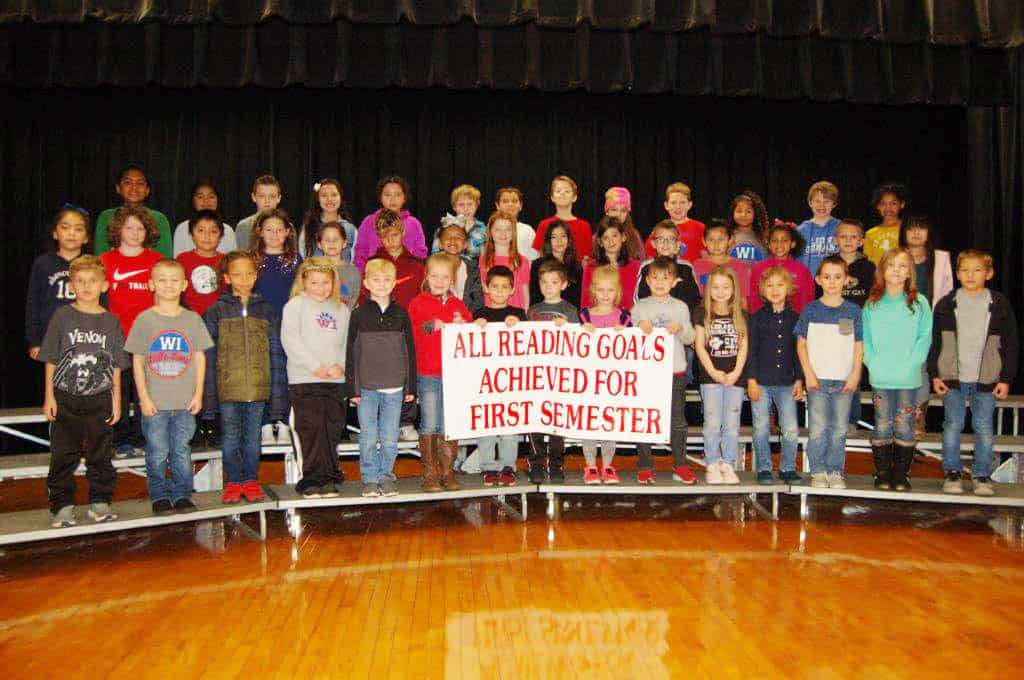 Top Row – Jakobi Milligan, Kendall McKinney, Will Liverman, Eisley Hopkins, Ana Soliz, Zaiden Lomoe, Alexzander Wright, Trey Nix, Kyrron Guilbeau, Robert Lee, Mia Goodlow, Zander Nabors and Khandi Smith.
Middle Row – Itzabella Solorzano, Cale Warsham, Bryan Jimenez, Amira Tranthum, Grace Olive, Jayce Bryant, Gwen Ashley, Tila Gray, Mya Fuller, Tanner Shaw, Zay'sha Minter, Ryan Hernandez and Michelle Narvaez.
Bottom Row – Matthew Guilbeau, Alek Damron, Omarius Joudah, AJ Dunn, Kolson Gordon, Emily Stanford, Camon Cecil, Kielei Brock, Brayden Guinn, Abby Tree, Christian McDaniel, Valen Breger, Katelin Tinker and Blake Davis. Not Pictured – Danyka Jordan and Eli Nichols.