Travis "Darell" Callaway of Blue, Okla., passed peacefully from this life on January 13, 2023 at the age of 83. He was born on March 18, 1939 in Tulare, Calif., to Henry and Beulah (Elliott) Callaway. Darell was a farmer and raised longhorn cattle. He also enjoyed buying old cars and fixing them up.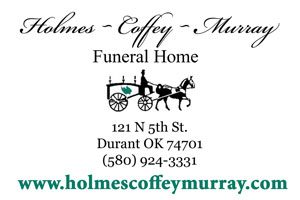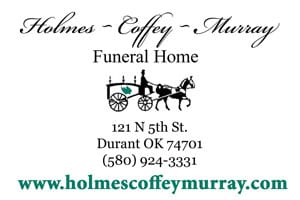 Those left to cherish his memory are his brother, Randell Callaway and wife Sheridan of Blue, Okla.; sister, Janice Iams of Denison, Texas; brother-in-law, Dean Robinson of Blue, Okla.; nieces and nephews: Heather Green, Jackie Callaway, Kasey Robinson, Kim Shannon, Kelly Robinson, Brad Iams, Lisa Vance, Ginger Clift, and Mitchell Clift, as well as numerous great and great-great nieces and nephews.
Preceding him in death are his parents, Henry and Beulah Callaway, and his two sisters, JoAnne Clift and Regina Robinson.
A funeral service will be held at 2 p.m. on Thursday, January 19, 2023 at the Holmes-Coffey-Murray Funeral Home Chapel with Brother Cole Newton officiating. Darell will be laid to rest at Highland Cemetery following the funeral service.
Those serving as pallbearers are Brad Iams, Kelly Robinson, Kasey Robinson, Jeremy Shannon, Mike Varner, and Josh Eiler.
Services are under the direction of Holmes-Coffey-Murray Funeral Home, 121 N. Fifth Ave. in Durant.
www.holmescoffeymurray.com