School is out, but youth across Bryan County are still taking to the basketball court.
The annual basketball camps hosted by the Southeastern basketball staff are underway.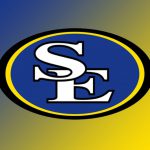 "The month of June is camp season," SE head women's basketball coach Darin Grover said. "We had team camp last week, and now we have three weeks of skill camps – ranging from young kids on up through middle school. And then there will be an offensive skills camp at the end of June."
Each of the camps are four-day events and Grover said there is still time to enroll.
"It's not too late to sign up. Those wanting to sign up can go to gosoutheastern.com or sebasketballcamps.com. Sign up online or just do it the old-fahioned way by just bringing in a check.
"And we accept walk-ins as well."
Tuition cost is $70 for all camps and the schedule for June is as follows:
Session 1 Elementary (Grades 2-6) – June 12-15, 1 p.m. – 4 p.m.
Session 2 Elementary (Grades 2-6) – June 19-22, 9 a.m. – noon
Middle School / High School (Grades 6-12) – June 19-22, 1 p.m. – 4 p.m.
Offensive Skills Camp (Grades 6-12) – June 26-29, 1 p.m. – 4 p.m.
For more information, contact Coach Grover at (580) 745-2472.