Simple Simon's Pizza is a Top Stillwater Restaurant
When you're in the mood for pizza, you want it to be fresh, delicious, and affordable.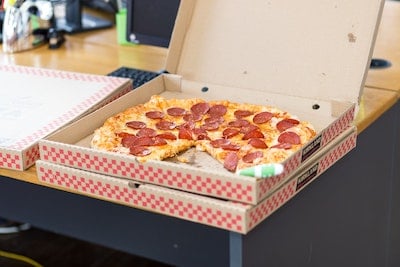 That's exactly what you'll find at Simple Simon's Pizza, a locally owned and operated Stillwater restaurant that has been serving up the best pizza in town for years.
Simple Simon's believes in the importance of family values, and its goal is to treat every customer like family by providing high-quality food and friendly service to everyone who orders from them.
Whether you're in the mood for a classic cheese pizza or something more unique like their BBQ chicken pizza, Simple Simon's has got you covered. You can customize your own pies, and you can even order keto or Beast Size pizzas to accommodate dietary needs and extra-hungry groups.
Simple Simon's Pizza also offers a variety of other menu items including sandwiches, wings, and calzones, making it a crowd-pleasing one-stop-shop for your next meal with family or friends. Top off your meal with an order of breadsticks and a dessert pizza or a giant cookie, and your group will leave happy and full.
You can order Simple Simon's Pizza for pickup or delivery, or you can enjoy your hot and delicious pie in-house. Whichever method you choose, you're sure to receive delicious food and excellent customer service.
Areas of Focus
Simple Simon's Pizza is a Stillwater restaurant that serves pizza, wings, and other food to the surrounding area.
Carry Out
Catering
Food Delivery
Dine-In
Lunch
Dinner
Online Ordering
Pick-Up Window
Learn More About Simple Simon's Pizza
Simple Simon's Pizza
424 North Main Street
Stillwater, OK 74075
405-707-9222
simple-simons-pizza-stillwater-002.brygid.online/zgrid/proc/site/sitep.jsp