By Joey McWilliams
DURANT – The calendar has turned and it is time once again to look toward spring formal fashion with a runway show in Durant.
Generations is hosting Sequins and Stilettos for the third year and the festivities continue to grow. This year's show will be Saturday, Jan. 6, at the Massey Building, 200 W. Main St. in Durant.
A 'Meet and Greet' will be from 6:15-6:30 p.m. and the runway show will start at 7 p.m.
Maddison Williams, whose family owns Generations, will be the Master of Ceremonies for the 2018 edition and was quick to distribute the credit for those who have worked hard on the event.
"It takes all of us to make the world go around up here – Heather Morlock, Cindy Golden, Stephanie Luke, Debbie Luke, Josie Harbin and Emily Marcum," Williams said.
Seating in the venue is 140 and tickets are still on sale at $15 each.
More than 40 models will be walking the runway to display this year's line, including 35 ladies and eight gentlemen.
"Our youngest model this year is an eighth-grader because there are winter formals that happen for middle school girls," Williams said. "And we have a wide range of ladies that are in the show for Crystal Ball and Blue and Gold and things like that. Our dresses hit all those things, but there are a lot of prom dresses, almost 100."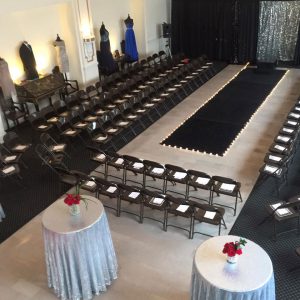 One of those models is Kai Liwai, a sophomore at Durant High School, who will be showcasing the dresses for her third year in the event and said there is a range of emotions that come with it.
"Sometimes it's a little nervewracking because you have all these eyes on you and you can't trip," Liwai said. "But overall, it's really fun.
"All the girls come from different parts of the county, so you get to make a bunch of new friends and so that's exciting. And obviously, you get to get all dolled up with your hair and your makeup and in a pretty dress and that's fun and exciting, too."
It's the third prom season for Generations to work with the county and community. Williams said getting things ready for Sequins and Stilettos is how everyone there gears up for the season and that they love it.
"It's a lot of work, but we're really excited," Williams said.
"A lot of moms, dads and grandmas come to the show, but a lot of potential buyers come as well. There will be a lot of high school girls who will be here this year to see what prom dresses we're carrying in the store this year, as well as ladies who are looking for special occasion dresses.
"But then we have a photographer and he will be posting all of the dresses that are in the show. His Facebook page is activevisionsphotography and you can see the dresses there and on our Facebook page."
She also said tickets still available on that night can be purchased at the door and that she was grateful to the community.
"Thank you to everybody who supports our business and supports us during prom season."