By Joey McWilliams
BRYAN COUNTY – The Brothers in Christ Outdoors ministry is set to host Battle of the Bows this month in Cartwright.
Billed as a time to come together in faith and in camaraderie, the four-man archery competition will have men's, women's, trad and youth stakes set up so teams can be made up of any combination of those four.
Individuals are allowed to register as well for the event, which is scheduled for Sept. 30 at Camp Victory. The registration page can be found HERE at Eventbrite.com.
Nathan Williams, founder and owner of Brothers in Christ Outdoors, said he is asking churches to use this as an outreach.
"If you can get a couple of guys from the church that shoot bows, invite a couple of guys that don't go to church to join them," Williams said.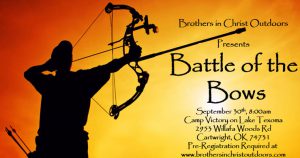 "We'll have a word from Pastor Lee Armstrong and barbecue afterward, and we'll have a lot of prizes to give away after that."
Among the items given away at the Battle of the Bows will be a bow, shoulder mounts and various other items provided by large vendors in the industry to be distributed as door prizes. There will also be a few things for auction to raise money for the ministry, which Williams described as one that helps men step into their place as the spiritual leader of the home.
"God put it on my heart years ago that we really focus on youth ministry a lot, but it's not the kids' job to bring the families to Christ," Williams said. "I really feel that if you're going to bring the man to Christ, you're going to bring the entire family to Christ. And the kids have a better chance to stay in there anyway."
Brothers in Christ Outdoors began as a Facebook page that after three years had 34 followers.
"My wife said to me one day, 'I think you need to pursue this.' And I said I thought she was probably right, so we did. And now three years later, we're fixing to hit 35,000 followers and we reach maybe 300,000 people on a given week – that's been our biggest week so far.
"It's been good to get to know people across the country and get to build relationships And that's what it's about – it's about our relationship with God and our family and our brothers and sisters in Christ.
"We do a lot of things online and last year, we began to put our boots on the ground. We started doing 3-D archery shoots. We do our ministry through the outdoors. God's given us that gift and He gives us passions.
"I truly believe He gives us passions to enjoy, but also to build the Kingdom and to glorify Him in it. So we do it through archery."
Pre-registration is required to make sure there will be enough food, and there are only 200 available spots. Those wanting to attend should sign up soon.