Rose Dawn Gaunder, 84, longtime resident of Perryton, Texas, passed away Tuesday, April 19, 2022 in Colbert, Okla. Rose was born Monday, November 15, 1937 in Cisco, Texas to Calvin and Annie Penn. She married Jimmie Gaunder on July 16, 1956 in Clayton, N.M.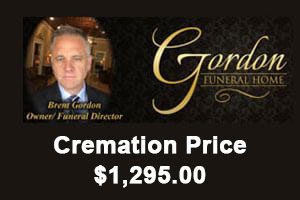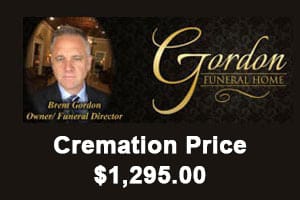 Rose was a loving wife, mom and grandmother. She loved listening to Jimmie play his music and sing. Rose was a member of the Eastern Star, a charitable organization. One of her hobbies was collecting antique dolls that she would find at antique shops and flea markets. She worked at many places in Perryton including as a school crossing guard, nurses aid at Ochiltree General Hospital and custodian for the Perryton School District and the Ochiltree County Courthouse.
Rose is survived by her daughter, Kathy Elkouri of Miami, Texas; son, Timmy Gaunder and wife Bobbie of Yantis, Texas; son, Michael Gaunder and wife Melissa of Newalla, Okla.; son, Marty Gaunder and wife Melissa of Cushing, Okla.; 10 grandchildren; 11 great-grandchildren; and three great-great-grandchildren; sister, Jo Ann Kell of Sulphur Springs, Texas; several nieces and nephews and many loving friends.
She was preceded in death by her husband, Jimmie Gaunder; son, Louie Gaunder; parents, Calvin and Annie Penn; sister, Rheta Brown; brother, Bobby Penn; and granddaughter, Hope.
Funeral services will be held at 2 p.m. on Saturday, April 23, at Brown's Funeral Home chapel in Durant with Bro. Anthony Williams officiating. Mrs. Gaunder will be laid to rest next to her husband, Jimmie, at Rose Hill Cemetery in Calera, Oklahoma with Barrett Gaunder, Justin Gaunder, Dell Brandt, Ray Cook, Vince Wennberg and Bob Bissell serving as casket bearers. Honorary casket bearers will be Dustin Gaunder, David Brandt, Jimbo Hancock, James Elkouri and Preston Williams.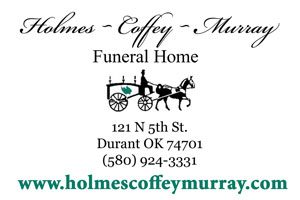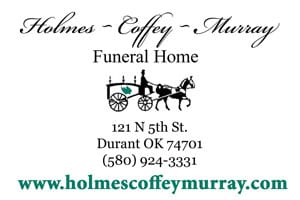 A Visitation will take place one hour prior to funeral services on Saturday at Brown's Funeral Home in Durant.
Arrangements under the direction of Brown's Funeral Home.