By Joey McWilliams
BRYAN COUNTY – Dentists from across Oklahoma are coming together again this year to give of their time and help to provide dental work for those who may not be able to receive it another way.
The Oklahoma Mission of Mercy is a two-day free dental event that is now in its ninth year. And for the first time, it will be held in Durant.
It will take place Feb. 2-3 at the Choctaw Event Center. There are no eligibility or income requirements.
Mathew Hookom, a dentist from Atoka, is the chair of the 2018 OkMOM and spoke of the free service, which has been held previously in Oklahoma City, Tulsa, Enid, Lawton, McAlester and last year in Woodward.
"It's for anybody and everybody that is in need," Hookom said. "If you have a dental need, we're there to serve you.
"We're doing cleanings, fillings, extractions, root canals on front teeth and in some limited cases, we're able to help improve the smile line."
It is a first come, first served opportunity and that means patients will want to get there early.
"We will have indoor waiting at 10 p.m. the day before," Hookom said. "But we start seeing people at 5:00 in the morning, and it is first come, first served, so I would definitely get there before 5 a.m. And you'll probably still have to wait a little bit, but there are no appointments.
"We'll try to see anybody that we can. There is a limit. The more volunteers we have, the more we can see. And we're hoping to see about 1,000 people a day."
Some of the volunteers necessary for this undertaking are already in place, but more are needed in the next few weeks.
"This is such a huge event and it takes so many people to make it happen, so many generous people," Hookom said. "We have Delta Dental of Oklahoma, they help fund this event. The Oklahoma Dental Association and the Oklahoma Dental Foundation are huge in this.
"And just all the local people – Indian Nation Wholesale, a lot of other businesses and banks, and the Choctaws have been amazing, letting us use their facility. There are so many like Southeastern (University), Taco Casa, Roma and so many more who are helping to donate food or donate money and we'll have about a couple thousand volunteers, so many people are volunteering their time.
"That's why I love this event so much. All across the state, there are dental professionals coming and non-dental professionals, too, to donate their time to help serve at this event. I just love seeing the dental community come together at this one time of year to make this happen."
Hookom also said having any kind of background in dentistry was not important for anyone wanting to serve.
"If you are a dental professional, we need you. If you know absolutely nothing about dentistry, we need you.
"As of right now, we're short on non-dental volunteers. If they want to find out more information about how to volunteer or how to become a patient or how to donate, they can go to okmom.org. That has all the information they need to do what they want to do.
"Our goal is to see around 1,000 patients a day, but of course, the more volunteers we have, the more people we can help."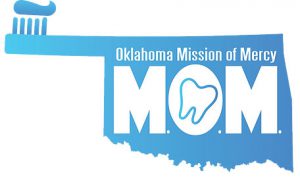 The people who receive the help are what an event like this is about, as Hookom related just one story, of what he said was many, of the lives changed because of OkMOM.
"A couple of years ago in Enid, a lady came in with kids. And she was like most other moms, she always took care of her kids and over time neglected her own health. And it got to the point where she was embarrassed to smile. She was one of those who cover their mouth when they smile.
"She spent the whole day there and got a lot of work done. And at the end of the day, she looked down at her youngest kid who was right next to her, and smiled. And the youngest kid grabbed her face and squeezed her cheeks and said, 'Mom, you're so beautiful!' And everybody was crying, for her to have that confidence in front of her children again.
"I'm very grateful to be a part of it and there are so many amazing people who are a part of this event. And I'm excited it's coming to Durant."