Nina Louise Lambert, a resident of Durant, Okla., passed away on May 15, 2023, at the age of 90. She was the daughter of Hearl Moberly Perkins and Ova Marie Perkins, who preceded her in death.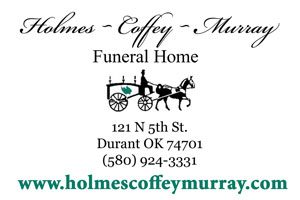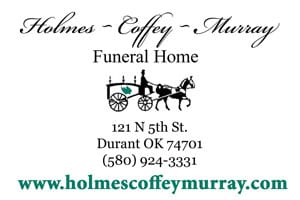 She was a well-loved member of the Bryan County community for many years and a member of First Baptist Church. Her family was very dear to her.  She loved traveling and, as a young girl in school, she loved playing basketball.  She worked for many years at Durant Bank & Trust.
She is survived by her sister Ann Patterson and husband Bob of Edmond, Okla.; daughter, Diana Rush and husband Michael; grandsons, Nathan Rush and Brian Rush, all of Nashville, Tenn.; grandson, Eric Helling of Chicago, Ill.; great-granddaughter, Hope Vandiver of Cedar Park, Texas; sister-in law, June Pickens of Sherman, Texas, sister-in-law, Penny Perkins of Hurst, Texas, and by many nieces and nephews, relatives and friends.
She was preceded in death by her beloved husband William (Don) Lambert, daughter Donna Helling, grandson Craig Helling, sister Marylou Swindell and husband Buddy, brother Hearl Wesley Perkins and wife Mary Italy, brother Eugene Perkins and wife Jo, brother Donnie Perkins, and brother Billy Perkins.
There will be a visitation on Wednesday, May 24, 2023 from 10-11 a.m. at the Hatchett Memorial Chapel in First Baptist Church Durant. Funeral service will be at 11 a.m. also in the Hatchett Memorial Chapel with Brother James Robinson officiating.  Nina will be laid to rest at Highland Cemetery following her funeral service.
Arrangements are under the direction of Holmes-Coffey-Murray Funeral Home, 121 North 5th Street, Durant, Oklahoma 74701. www.holmescoffeymurray.com