By Joey McWilliams
DURANT – The Friends of the Library are once again getting help from young artists in the community.
The Mini-ture Master's Art Show will be displaying artwork created by young people on Saturday, Jan. 13 from 10 a.m. until noon at the Donald W. Reynolds Library.
To come participate and possibly purchase some of this artwork, simply bring a nonperishable food item or a blanket or new clothing to the event to help stock the library's pantry and closet.
Gaius Sanchez, a student at Northwest Heights Elementary School, is the entrepreneur behind this venture. The 7-year-old will have some items on display this weekend, including pieces he has created about Star Wars and his own house.
Jenny Sanchez, president of Cherokee Communications in Calera, said her son had been talking about having an art show since he was 5.
"As many offices and homes, we have artwork lining the hallways," Sanchez said. "He would come down there when I was working and that's how he would entertain himself – drawing. And a lot of times it was a map, a treasure map, or something like that. He'd tape them up on the wall.
"One day, he realized he'd covered a lot of the walls and he said, 'I ought to have an art show.' And he started asking me, 'When can we have it?' And I kind of put him off, just didn't have time to do it. We kind of thought we'd just invite our friends down to the office, you know, and have some snacks and let them come and look at it. And then we said, just kind of dreaming, 'What if we invited our friends to be a part of it?'"
Gaius said he just came up with the idea and everyone can be a part of it. And kids can bring whatever kind of artistry they want.
"It really doesn't matter, you have to make art work," Gaius said. "Any kind."
Jenny said she and Gaius were at the library last fall about the time it started getting cold when they heard Library Director Robbee Tonubbee speaking about a growing need there.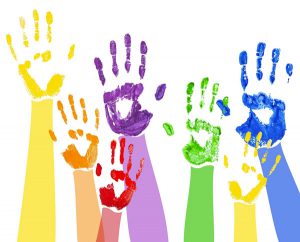 "Robbee mentioned they had a lot of people, kids after school that didn't have someplace to go, or homeless people, or maybe just some people that needed clothing items, that were there at the library and she was starting her efforts to help with that," Sanchez said.
"That's when we decided maybe our art show ought to be inclusive of everybody in Bryan County. And all these kids who have 'refrigerator art' that don't get to show it off would have an opportunity to show it off and raise some money or at least get some items to stock their pantry and their coat closet. And in talking with Robbee about it, Gaius did have the idea that – because she did mention that the library closes and it's cold and some people stayed there at night – that maybe having a heater of some sort outside would be good.
"We looked into the idea of a radiant heater to be put outside. He came up with that idea and together we worked on researching how much it would cost to purchase the heater and how much it would cost to run it and install it. And he went to the library's board meeting and presented this idea, because it needed approval, and he got approval."
For the library and those who work there, the event means yet another audience of people who are invested in the library, according to Tonubbee,
"And it gives us the opportunity to showcase art for those youngsters who may not have another venue," Tonubbee said. "I know a lot of times art is secondary in curriculum and so they don't even get to do very much of it in school, so there's not a lot of time when they can put their art on display, like Jenny says – somewhere outside the refrigerator."
Sanchez said the show was successful in that the goal was met in funds raised. The event also had sponsorship from Burrage Law Firm and University Auto Spa.
And they also sold a lot of art.
"All the art that is donated is up for sale," Sanchez said. "We want the people to know that. If they want the art back, they can make a small donation to the cause and we'll mark it as 'Sold' and they can pick it up afterward."
Tonubbee noted that along with the purchase of the heater, funds were raised to buy a freezer for the summer reading program.
"We're looking this year to get a washer and dryer so that we can launder some of the coats and donations that we get," Tonubbee said. "As well as if there is somebody passing through the area that needs to do a load of laundry. Maybe they are living in their car or waiting to get a bus ride. We'll evaluate those on an individual basis and see if maybe let them do a load of laundry.
"We've got the space for it, we've just got work out how we're going to get it done. That's what the funds will be raised for this time."
The art show on Saturday provides people the opportunity to give to community cause while at the same time having something special to bring home.
And it could be that this is the encouragement needed to nudge forward a new wave or local artists.