Mary Horath was born on April 7, 1947, in Atoka, Okla., to Daniel Otto and Hazel Bell (Harrington) Adams. Mary passed from this life into the arms of Jesus on May 27, 2023, at the age of 76.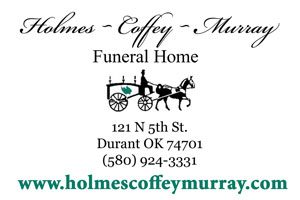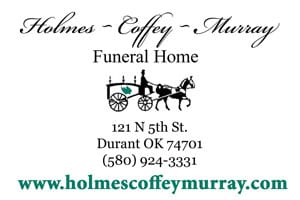 Mary attended Tushka High School and later married the love of her life, Dwight Horath on November 5, 1963, in Arcata, Calif. They were united in marriage for 36 years until Dwight's passing in 1999. Mary worked as a childcare provider for most of her life until her retirement. She was a member of Victory Life Church, and she enjoyed crocheting, puzzles, and she dearly loved and treasured her family, especially her grandkids.
Mary is preceded in death by her beloved husband, Dwight Horath; parents, Daniel and Hazel Adams; son Jimmie Horath; daughter, Tammy Taylor; grandchildren, Jonathan and Stephanie Horath; brothers and sisters, Ruby May Adams, James Adams, Wilma Taylor, Charles Adams, Lilliam Maxwell, Allen Adams, and Wanda Vickers.
Loved ones left behind to continue her legacy are her daughter, Diana Croslin and husband Michael of Caddo, Okla.; grandchildren, Alexus Phillips of Caddo, Okla., Mikayla Croslin of Edmond, Okla., Melinda Taylor of Caddo, Okla., Anthony Taylor of Blue, Okla., and Danny Horath of Apple Valley, Calif; great granddaughter, Tamry Taylor; 11 great-grandchildren; and numerous extended family and friends.
A celebration of Mary's life will be held at 2 p.m. on June 2, 2023, at Brown's Funeral Service Chapel. Chaplain Bruce Jackson will officiate.
Arrangements are under the direction of Brown's Durant Funeral and Cremation Service.