Margaret Smith a resident of Durant, Okla. and precious soul left this life on Tuesday, June 30, 2020 at the age of 81. She was born in Armstrong, Okla. to John Wesley McDonald and Mamie Lee (Wagner) McDonald on Sept. 7, 1938.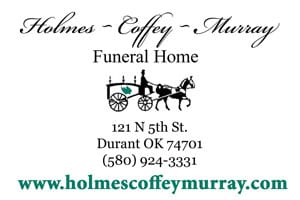 Margaret was employed during her lifetime at the Durant Sewing Factory and the Stage Department Store. She loved to sew for her family and work in her abundant vegetable gardens and beautiful flower beds.
Mrs. Smith is survived by her, older sister, Ella Brown of Taft, Calif., numerous nieces, nephews, great-nieces, great-nephews, great-great-nieces and nephews, and numerous cousins in Oklahoma, Texas and Arkansas.
Mrs. Smith was preceded in death by her parents, John and Mamie McDonald, two younger sisters, Frances Honeysuckle, and Jane Turner, and her cherished daughter, Barbara Smith Ackerman.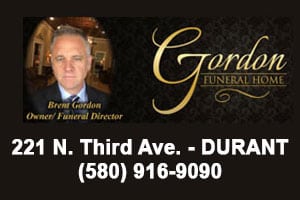 A graveside service in celebration of her life will be at 10 a.m. on Friday July 3, 2020 at the Bokchito Pavilion in Bokchito, Okla. with Bro. Jessie West officiating.
The services for Margaret will be streamed live on our FB page. Services are under the direction of Holmes-Coffey-Murray Funeral Home in Durant, Okla.
www.holmescoffeymurray.com