Lois Jean Smith, 88, of Woodward, Okla. passed away on May 21, 2022, in Tishomingo, Okla. Lois was born on August 2, 1933, in Fargo, Okla. to Loyd and Della (Casler) Benger.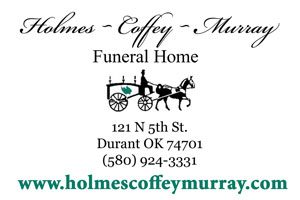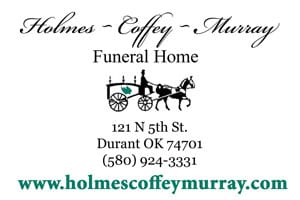 Lois graduated from Fargo High School and later married Jacob Meier on May 25, 1952. She later married Charles Smith "Smitty" on April 12, 1975, and he preceded her in death on May 27, 2018, after 43 years of marriage. Together they owned and operated Smitty's Welding in Woodward. Lois was of the Baptist faith, and she deeply loved her family especially her grandchildren and red roses.
Lois is preceded in death by her husband, Charles "Smitty" Smith; parents, Loyd and Della Benger; son, Alan Meier; Jacob Meier, father of her children; grandson, baby Stallings and sisters, Zella Drake and Wanda Tyrrell.
Lois is survived by her children, Jackie Stallings and husband Jesse, Randy Meier, and Cindy Scott; grandchildren: Jessa Davidson and husband Joe, Michael Stallings and wife Christie, Celina Stallings, Kelby Scott and wife Allyson, Brock Scott and wife Michelle, and Michael Scott (Madde); great-grandchildren: Alex Davidson, Conner Bates, Ben Davidson, Michaela Stallings, Cora Stallings, Dax Scott, Kelson Scott, Kayson Scott, Brody Scott, Audrey Scott, Zac Scott, and Oliver Scott; step children: Steve Smith, Lynette Bell, Mike Smith, Brenda Salas and husband John, Theresa Troutner, and Diane Smith; step-grandchildren: Julie Smith, Michael Bell, Kristie Brown, Melissa Salas, Angela McDonald, Michael Smith, Johnny Salas, Misty Thomazin, Chris Watson, Donny Troutner, Tiffany Watson, Sean Smith, Priscilla Frey, Ellie Baird, Connor Smith, Jamie Stewart, and Jacob Smith and numerous nieces, nephews, extended family and friends.
A celebration of Lois's life will be held at 1 p.m. on Friday, May 27, 2022, at Lincoln Avenue Baptist Church in Woodward, Okla. Rev. Jason Dirks will officiate.
Arrangements under the direction of Brown's Funeral Home.