Larry Dean Tom passed away on October 20, 2022, at his home in Mead, Okla., with his family at his side. Larry was born on September 9, 1961, in Talihina, Okla., to James Edward and Donie Ann (Chumley) Tom.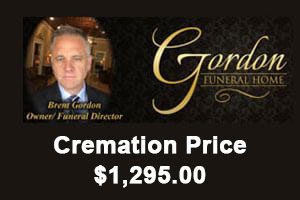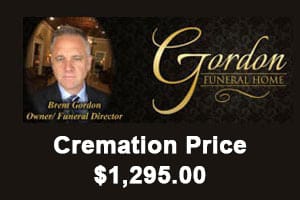 Larry attended James Logan High School and graduated from Riverside Indian School in Riverside, Calif. He married Frances Martinez on September 3, 1983, in Reno, Nevada and they moved to Bryan County in 1996 and made their home in Mead.
He worked as a heavy equipment supervisor for Stringfellow Holdings until his health declined. He enjoyed working and painting cars, Indian beading, going to Starbucks and spending time with grandchildren and family. Larry deeply loved his family and enjoyed working hard for them.
Larry is preceded in death by his parents and sister, Jamie Taporco.
Larry is survived by his wife Frances Tom of the home; children: Natasha Hill and husband Nathan of Durant, Okla., Teenamarie Hood and husband Josh of Calera, Okla., James B. Tom Sr. and wife Krystal of Durant and Stephanie A. Tom of Mead and Alexis Pena of Fremont, Calif.; grandchildren: Benjirman Tom, James Tom Jr., Nicholas, Ashton, Brooklyn, Raeleigh, Cooper, Ivy, Jensen, and Oakley; sister, Ramona Henderson and husband Freddie of Durant, Okla.; uncle, Donald Chumley of Mead and numerous extended family and friends.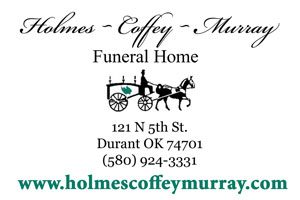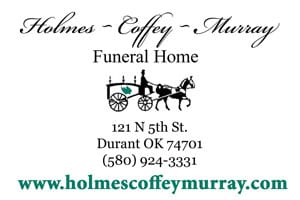 Funeral services to celebrate Larry's life will be held at 2 p.m. on Wednesday, October 26, 2022, at Brown's Durant Funeral Service Chapel. Bro. Ray Earley will officiate. Interment will follow in Mead Cemetery with his Grandsons serving as pallbearers. Honorary pallbearers will be Leroy Newcomb, Jason Weaver, Ben Rivera, and Jessie Ramirez.
The family will receive friends at the Funeral Home on Tuesday evening from 6-8 p.m.
Arrangements are under the direction of Brown's Durant Funeral and Cremation Service.