Julia Faye DeLisse, 75, of Bonham, Texas, passed away on July 1, 2022, in Denison, Texas. Julia was born on July 6, 1946, in Kingston, Okla. to Thomas and Almita Lucille (Pershica) Ned.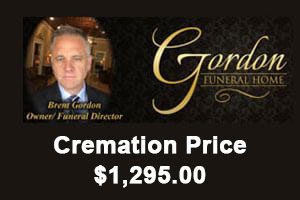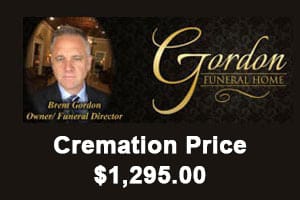 Judy was a loving homemaker to her family. She married David West DeLisse in 1990 and they have been blessed with 32 years of marriage. She was of the Baptist Faith, and she enjoyed Indian beadwork, quilting, sewing, fishing, and playing penny slots. But most of all she loved her time with family, friends, and especially her grandchildren.
Judy is preceded in death by her parents; son, Bobby Vandenburg; daughter-in-law, Stormy Vandenburg; brothers, Ivan Ned, Edwin Ned, Elwin Ned, Fred Ned, and Tommy Ned and sister, Sue Metcalf.
Judy is survived by her loving husband, David West DeLisse of the home; daughter, Samantha Cirkles and husband Dean of Telephone, Texas; son, Ronnie Vandenburg and wife Nelda of Bokchito, Okla.; brother Bobby Ned and wife Norma; sisters Jan Brooks, Mary Jane Vandenburg, and Patty Peebles and husband Rauel; grandchildren, Stacy Christman, Allen Graham, Marcia Cirkles, Jackie Cirkles, Trinity Vandenburg, Kayla Pierce, Lakyn Collinsworth, and Branten Vandenburg; numerous great-grandchildren and extended family and friends.
Funeral services will be held at 1 p.m. on Saturday, July 9, 2022, at Brown's Funeral Service Chapel. Interment will follow in Bokchito Cemetery with Terry Brooks, Allen Graham, Branten Vandenburg, Jackie Cirkles, Bo Peebles, and Mark Pierce serving as pallbearers.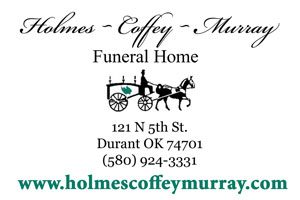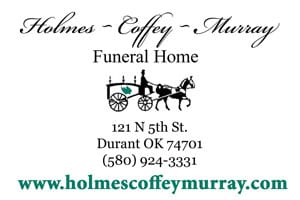 The family will receive friends at the Funeral Home on Friday evening from 6-8 p.m.
Arrangements are under the direction of Brown's Durant Funeral and Cremation Service.