Helen Francis Mitchell passed away peacefully on Monday, March 20, 2023, at the age of 96 in Wylie, Texas. She was born on February 22, 1927, in Leonard, Texas to Harry and Nan (Rambo) Mitchell.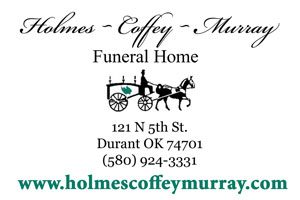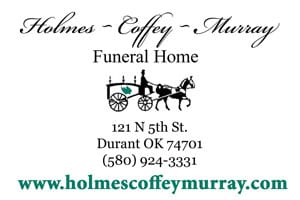 Helen loved her dogs like they were her own children and was a fan of the Dallas Mavericks basketball team. After college at Southeastern Oklahoma State University, she began her career in Washington, D.C., working for the Medical Society of the District of Columbia. After than, she worked for GMAC in Dallas, Motorola in Phoenix, and returned to Dallas, working as an accountant/bookkeeper for various employers.
Left behind to cherish her memory are her brother, Jim Mitchell, of Littleton, Colo.; her nephews Jerry Mitchell of Littleton and James Mitchell of Olathe, Colo., and cousins and friends in Oklahoma, Texas, Arizona and elsewhere.
Preceding Helen in death are her parents, Harry and Nan
Family hour will be held at the Holmes-Coffey-Murray Funeral Home Chapel on Friday, March 24, 2023, from 1-2 p.m. Funeral service will follow at 2 p.m. with burial immediately following in the Highland Cemetery in Durant, Okla.
Services are under the direction of the Holmes-Coffey-Murray Funeral Home. www.holmescoffeymurray.com