Harlan "Blue" Eugene Bridges was born in Durant, Okla., on Thursday, April 17, 1947, and passed from this life on Sunday, November 27, 2022, at the age of 75. He was the son of Leon and Flora Bridges. Harlan married the love of his life Ida on December 5, 1966 in Sherman, Texas.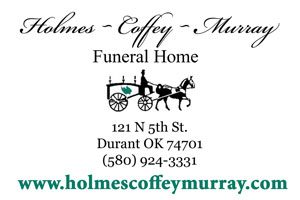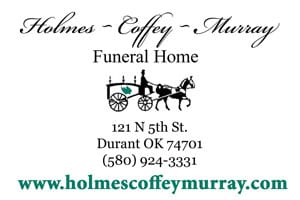 Harlan enjoyed rebuilding tractors, tending to his cows, and loved spending time with great-granddaughters. Harlan was a member of the Colbert Masonic Lodge #8 32nd degree.
Harlan is preceded in death by his parents.
Harlan is survived by his wife, Ida Bridges of the home; son, David Bridges and wife Karla; daughter, Crystal Bridges and Jay Beauchamp; grandchildren: Tyler Bridges and wife Christy, Clinton Bridges and Kristin Brigman, Brandon Bridges, Christian Wakefield, Coalton Beauchamp; great-grandchildren Audrey, Kylie, Kenzie, and Chloe Bridges. Siblings; Windford Bridges and wife Sherry of Cartwright, Okla.; Marilyn Castleman of Gleason, Tenn.; Wilma Anthony of Weatherford, Texas.
A funeral service to honor Harlan was held graveside on December 1, 2022, at Colbert Garden of Memory Cemetery. Brother Roger Spears and Brother Don Hyde, Jr. officiated. Serving as pallbearers; Tyler Bridges, Windy Bridges, Clinton Bridges, Brandon Bridges, Christian Wakefield, and Coalton Beauchamp.
Arrangements entrusted to Cunningham Funeral Home in Colbert, Okla.