Freda Anne Carterby, a resident of Durant, Okla., passed away on May 23, 2022, at the age of 61. She was born May 9, 1961, in Fresno, Calif., to Calvin and Maureen Carterby.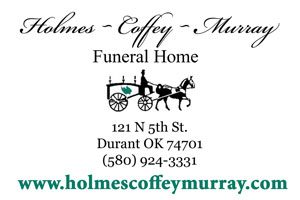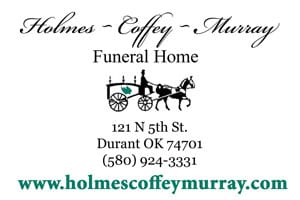 Freda was a proud elder of the Choctaw Nation. She was of the Baptist Faith. Freda loved spending time with her friends.
Ms. Carterby is survived by her daughter, Stacy Blanco and husband Jose of Durant, Okla.; grandchildren, Ashley Carterby and fiancé Chance Belcher of Durant, Okla., Kayla Carterby of Hendrix, Okla., Devin Prater of Hendrix, Okla., and Alexxys Blanco of Durant, Okla.; great-grandchildren, Elijah Carterby, Nataly Cruz Gregorio, Raelynn Wyatt, and Stacy Belcher, she is also survived by numerous nieces and nephews.
Ms. Carterby was preceded in death by her parents.
Family hour will be from 5-7 p.m. on Thursday May 26, 2022, at the Holmes~Coffey~Murray Funeral Home, 121 N. Fifth Ave. in Durant, Okla.
A graveside service will be held at 2 p.m on May 27, 2022, at the Rosewood Cemetery in Achille, Okla. with Chaplain Keith McIntyre officiating. Serving as pallbearers will be Justin Robertson, Trevor Black. Glen Bomsburger, and Chance Belcher.
Services are under the direction of Holmes~Coffey~Murray Funeral Home in Durant, Okla. www.holmescoffeymurray.com