Choctaw Nation
Charlie Clark
DURANT – Growing things is a big part of what agriculture is all about. The Choctaw Nation Agriculture Outreach Program is doing that in a variety of ways. During the school year classroom visits are made; demonstrations are provided at public functions; technical assistance is given to agricultural producers; and grants are written and administered to expand community services. This summer the organization is helping the first Choctaw Nation Agriculture Expo to take root.
"There used to be several in and around Durant, but they have kind of dwindled away over the past 10 years," said Nikki Schuth-Mitchell, Tribal Extension Agent for the Choctaw Nation. "We are hoping to get a big one started again with the Ag Expo."
This is a trade show, not a livestock show, she explained about the one-day event. Close to 30 vendors have already been confirmed for booths at the Choctaw Nation Agriculture Expo on Saturday, Aug. 4 at the Choctaw Nation Event Center, 3702 Choctaw Road in Durant (the northeast corner of Choctaw Road and Highway 75). Hours are 9 a.m.-5 p.m. Admission is free to the public.
The list includes a number of large vendors, such as farm equipment and trailers, which will have some of the bigger displays. Vendors have donated door prizes for drawings including three chainsaws.
The purpose of the expo is to bring together in one place the agricultural resources and professionals to help farmers and ranchers of the community. Multi-acre agri-businesses and backyard gardeners alike are expected to benefit from the show of agricultural services and farm and ranch equipment. Gardening techniques will be demonstrated and the U.S. Department of Agriculture will be on hand to offer grants and policy information. KLBC FM radio 106.3 will be broadcasting live with updates throughout the day. The expo also will serve as fundraiser for the FFA which will operate the concessions stand.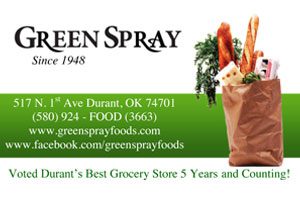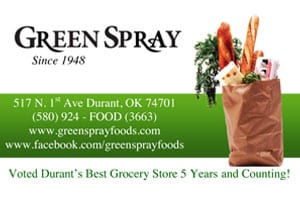 To find out more about the first Choctaw Nation Agriculture Expo, contact Macy Vansickle, (580) 924-8280, Ext. 4276 or mvansickle@choctawnation.com.