Betty was born on October 3, 1946, in Dallas, Texas, to father Edward Henderson, and mother, Ethel Henderson.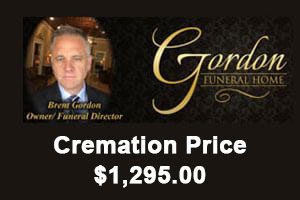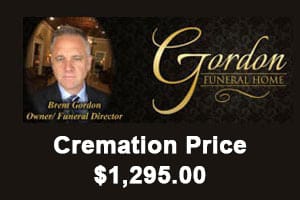 Betty married her beloved husband of 50 years, Larry Nolan (deceased), June 21, 1968, at St. Pius X Catholic Church in Dallas. They moved to the Durant area in 1969 and lived there since. Betty and Larry had two children; a son, Stephen Nolan (Bryan, Texas; spouse, Olga Nolan); and a daughter, Laura Koval (deceased; spouse, Michael Koval, Durant, Okla.).
Betty and Larry, both professors at Southeastern Oklahoma State University (SOSU), enjoyed spending their summers together with the family at Lake Texoma: swimming, and sailing. Together, they were both faithful members of the St. William Catholic Church in Durant for over 50 years.
Betty graduated from Bryan Adams High School in Dallas. She received both her bachelor and a master's degrees from SOSU. She was also a Certified Public Accountant (CPA). Betty retired from her career as a professor at SOSU, then taught at Grayson County College for several years. In addition to teaching, she ran an income tax preparation service until her decline in health.
Betty was preceded in death by her father, sister Therese Kinnaird (Garland, Texas; spouse John Kinnaird), daughter and husband. She is survived by her mother; sisters Rita Messimer (Dallas, Texas; spouse, William Messimer), Irene Isom (Forney, Texas; spouse, Scott Isom), and Dorothy Henderson (Dallas, Texas); son; granddaughters Audrey Nolan (Denison, Texas) and Emily Nolan (Tucson, Ariz.); several nephews and nieces; and many relatives by marriage.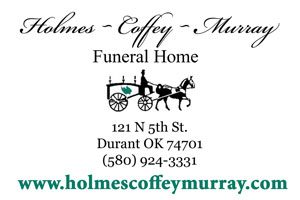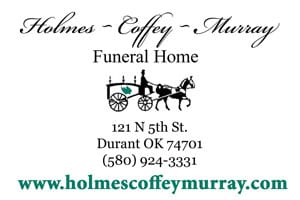 An open-casket viewing is to be held at Brown's Funeral Service, 4900 W Old Highway 70, in Durant on Saturday, June 25, 2022 from 9-11 a.m. A catholic funeral mass will be held at St. William Catholic Church, 802 W University Blvd, in Durant on Saturday, June 25 at 2 p.m., Father Carl Kerkemeyer presiding, followed by a family reception hosted by the ladies of the St. William Altar Society in the parish hall.
Betty's final resting place will be next to her husband, Larry, in the Durant Highland Cemetery.