Doyle Austin "Whale" Pair, of Bokchito, Okla., passed from this life on Friday, September 23, 2022 at the age of 22. He was born on Friday, October 8, 1999 in Durant, Okla., to Doyle Wayne Pair and LaDonna "Joy" (Atkins) Starling.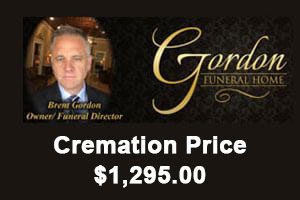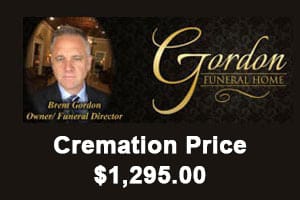 He was a lifelong resident of Bryan County and was a member of the Victory Tabernacle church.
He enjoyed fishing, hunting, golf, gaming, eating, being a jokester, making people laugh and spending time with his family. He never complained and was always happy. He had a heart of gold.
He was preceded in death by his great-grandmother, Rosie Pair.
Survivors include his father, Doyle Wayne Pair and mom Amanda of Bokchito, Oklahoma; mom, Joy Starling and husband Jeffery of Shawnee, Okla.; siblings, Chelsea Dean of Durant, Okla., Mercedes Pair of Durant, Okla., Jacia Foster of Mississippi, Jeron Foster of Mississippi, KayLee Pair of Durant, Okla., Mercedes White of Arkansas, Holden Pair of Bokchito, Okla., Maddox Pair of Bokchito, Okla., Cason Pair of Bokchito, Okla.; grandparents, Pastor Doyle Pair and Margaret Pair of Durant, Okla., Joseph and Barbara Atkins of Mississippi, Bill and Karen Cox of Anna, Texas; aunts and uncles Tracy and Brian Graves, Angela and Darrell Mayo, Katie and Jon Lewis, Scott Atkins, Tara and Jack Phillips as well as numerous other aunts, uncles and other extended family..
A funeral service was held on Wednesday, September 28, 2022 at the Victory Tabernacle church in Durant, Okla. with Pastor Simon King officiating. Coby Brewer, Connor Roberts, Cameron Roberts, Ryan Vanzandt, Jeron Foster, Austin Montgomery and Gavin Crouse wserved as pallbearers. Holden Pair, Maddox Pair and Cason Pair were honorary pallbearers.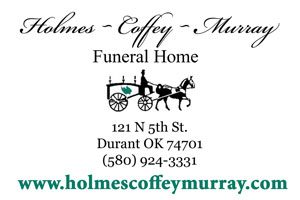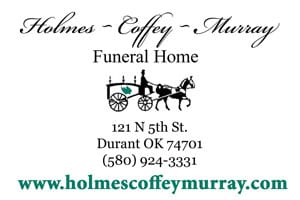 Funeral arrangements are under the direction of Gordon Funeral Home, 221 N. Third Ave. in Durant.
Phone: (580) 916-9090
www.gordonfh.com