Delbert D. Carson passed peacefully at home on Wednesday, May 3, 2023 at the age of 85. He was born on March 19, 1938 in Newby, Okla. to Clifford and Zella (Burgett) Carson. On June 20, 1959, he married his wife, Claudette, in Fairfield, Calif.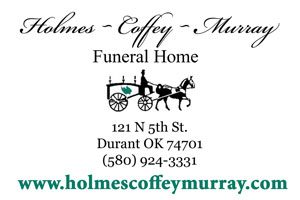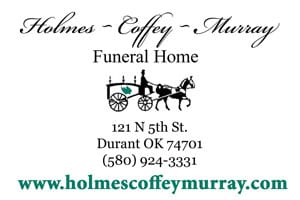 Delbert was the owner of DC Concrete in Elko, Nevada prior to his retirement. He enjoyed activities such as gardening, fishing, and hunting. He loved the outdoors and tinkering around with things.
He is survived by his sister, Charlene Hawkins of Smyrna, Del.; his grandsons: Zach Lesley and wife Darlene of Mead, Okla. and Jed Lesley and wife Brittani also of Mead, Okla.; great-grandchildren: Brooke Lesley, Eden Lesley, Landon Lesley, Kendrick Lesley, and Braxtyn Lesley, as well as his son-in-law Brandon Lesley of Mead, Okla.
Preceding him in death are his parents, Clifford and Zella Carson; his wife, Claudette Carson; daughter, Cassondra Lesley, and his other siblings.
The family has chosen private services at this time.
Services are under the direction of Holmes-Coffey-Murray Funeral Home, 121 N. Fifth Ave. in Durant.
www.holmescoffeymurray.com