Sponsor | Blackwood Real Estate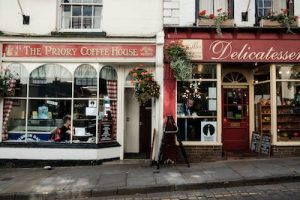 If you're looking to invest in commercial real estate, you need a commercial broker who can help guide you through the process. Blackwood Real Estate is a commercial realtor in Fredericksburg, Virginia that provides thorough and professional services to those looking to buy, sell, build, or manage commercial real estate.
Owned and operated by David Blackwood, Blackwood Real Estate is a team of professionals who have years of experience in the commercial real estate industry. From realtors and appraisers to consulters and property managers, you can find all that you're looking for in the Blackwood Real Estate team.
When it comes to investing in commercial property, there are many things that a Fredericksburg commercial realtor can bring to the table. A realtor will know and understand the local markets and trends that can greatly impact the location and type of commercial property you are looking to purchase. They will also represent you in negotiations, ensuring that you get the best deal possible. If you are looking for a commercial realtor, contact Blackwood Real Estate today.
Areas of Focus
Blackwood Real Estate provides many services for those looking to buy, sell, build, or manage a commercial property. Their team of real estate professionals has in-depth experience in handling commercial property transactions and management. If you need someone to walk you through the process, this is the team to contact.
Here are their areas of focus:
Commercial Brokerage
Commercial Management
Residential Management
Commercial Development Consulting
Commercial Leasing
Commercial Site Aquisitions
Having an experienced real estate professional on your side can both save you and make you money in the long run when it comes to investing in a commercial property. It's important that you choose a property that suits your business needs but also caters to your customers. The team will listen to your business needs and work to find you a property in your price range, at a great location, and with your certain business desires. Contact Blackwood Real Estate today.
Blackwood Real Estate
10950 Pierson Drive, Suite 600 Fredricksburg, VA 22408
Want to know more about what's happening in Bryan County? Click here.