By Joey McWilliams
DURANT – A hot July morning seemed appropriate for a shaved ice business to have a ribbon cutting signifying joining the Durant Area Chamber of Commerce.
Snowbyrds Shaved Ice had its official opening in Durant on Wednesday.
Owners Andy and Kara Byrd spoke about the establishment and thanked those who have helped to get it to this point.
"Andy and I purchased J.J.'s Shaved Ice in November of last year and just felt strongly about rebranding," Kara Byrd said. "So we rebranded to Snowbyrds. Of course, it is with a 'y', like our last name. And we gave it a new look and a new feel.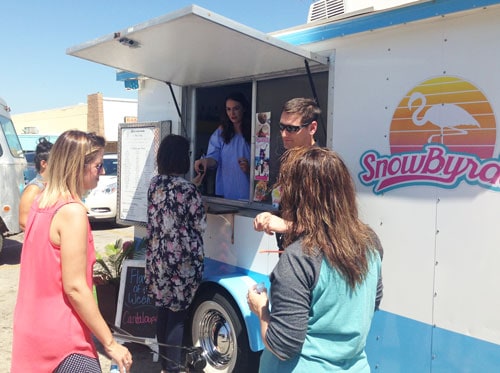 "We rewrapped the trailer, we did a new logo. When we took it over, we had six employees. We now have 13 and I'm about to hire four more. So we have expanded beyond our expectations."
"I would like to say, for one, the support that is here today means a lot," Andy Byrd said. "There are a lot in the community that we would love to say thank you to, but we would be here for a while. Thank you to the community for accepting us and accepting what we've done. And hopefully we can continue to grow and continue to find jobs for everyone."
The ribbon cutting took place at the location on Washington Avenue in the parking lot of Pruett's Foods. There is a second location on First Avenue with a drive-through and Snowbyrds can also take its show on the road.
"We now have our mobile truck that we can rent out for birthday parties, weddings, events and we've even done church camps," Kara Byrd said. "We've done 11 events in the truck in a month since we've had it, so it's been really well received in the community. That one is a little bit more of a condensed menu because it does travel with us. But it's been really a great, great venture so far."
Snowbyrds was also recognized by the Choctaw Nation recently.
"Andy is Choctaw and through the Small Business Development Center, we asked them for help with our business plan. And we actually got to take part in their $5,000 forgivable loan plan. That helped us to expand. We bought a walk-in freezer instead of having five small 5-foot freezers to harvest our ice.
"We were really honored. We had no idea until Thursday that we had even been nominated, much less selected as the Small Start-up Business of the Year from the Choctaw Nation. That was a huge honor for us. We were very proud to just be nominated, elated to have been selected."
Snowbyrds can also be found on the web at snowbyrdsshavedice.com.