Catherine "Sue" Dyer formally of Colbert, Okla., joined her Savior Jesus Christ on November 19, 2021, at the age of 95. She was born in Dierks, Ark., on January 3, 1926, to Harold A. Pope and Imogene (Craddick) Pope. Sue married Joe Odell Dyer on January 20, 1945, in Carlsbad, N.M.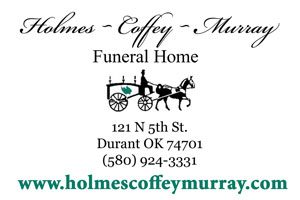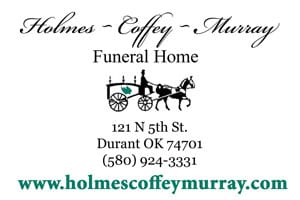 Sue was a loving wife to Joe (who preceded her in death), and mother, to her two children, working alongside Joe on their cattle ranch. She created beautiful quilts often entering them in the State Fair, she was awarded numerous ribbons through the years, she also made quilts for Graceland. Sue was a faithful member of the Colbert Baptist Church for 41 years, she enjoyed serving as an adult and children's Sunday school teacher. She was often found working in her yard, the Colbert Seniors would have their picture made in her yard.
Mrs. Dyer is survived by her children, Sharlette Brumley of Cleveland, N.M. and Ray Dyer of Branch, Texas; granddaughter, Shannon Brumley of Cove, Ark.: and great-grandson, Logan Jacobs of New Port, Ark.
Mrs. Dyer was preceded in death by her parents, Harold and Imogene Pope; husband, Joe; brothers, Robert, Conrad, Jerry, and Randall and sisters, Nelwan and Deloris.
A graveside service will be at 2 p.m. on Wednesday, Nov. 24, 2021, at the Garden of Memories in Colbert, Okla. with Stephen Alexander officiating.
Services are under the direction of Holmes~Coffey~Murray Funeral Home in Durant, Okla.