Bowman James Forbis was born September 29, 2019, in Durant, Okla., and gained his heavenly wings on November 11, 2023, in Albany, Okla.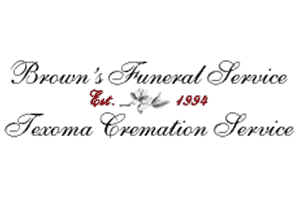 Bowman is the son of Kanda (Jackson) Forbis and Shawn Forbis.
Bowman loved to ride dirt bikes, buggies, and airboats. He enjoyed loving on his baby brother and rubbing his comfy head. Bowman enjoyed going to Colorado, singing and dancing, eating all the snacks, and spending time with his friends and family. He was full of life and did not enjoy sleeping. He was a member of the TCCRA- Texas Cross-country Racing Association and was named Champion 12" Stacyc 3 and under for 2023.
Bowman is preceded in death by his sweet dog, Rainy Jo. Cousin Logan Johnson; great grandmother, Ima Jean Butler; great grandmother Juanita Hobbs; great grandfather, Leroy Walker; and great-great grandmother "Happy" Chaney.
He is survived by his parents, Kanda and Shawn Forbis; brother, Jackson Forbis of Calera, Okla.; grandparents, James and Kay Jackson of Caddo, Okla., Kip and Tammy Francis of Durant, Okla., Michael Forbis of Calera, Okla.; aunts and uncles, Kelby and Taylor Johnson of Brown, Okla., Kannon and Terra Jackson of Caddo, Okla., Clayton Francis, Hannah Bryant and husband Mason Bryant of Durant, Okla.; cousins, Lukas, Layne, and Letty Johnson of Brown, Okla., Kenzington Jackson of Caddo, Okla., and numerous extended family and friends.
A celebration of Bowman James Forbis's life will be held at 1 p.m. on Thursday, November 16, 2023, at Fusion Church in Durant, Okla. with burial to follow at Rose Hill Cemetery in Calera, Okla.. Brad Hixon and Kevin Lowrimore will officiate. Pallbearers will be DJ Forbis, Joey Walker, Mason Bryant, David Dill, Keith Bonham, and Billy Henry. Honorary pallbearers will be Rodney Forbis, Allen Freeman, Kolby Surratt.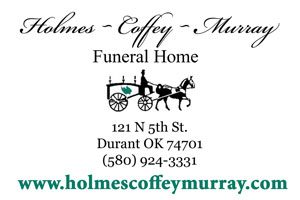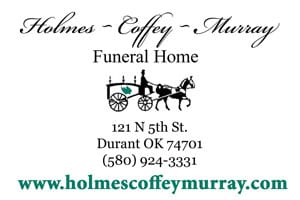 Services are under the direction of Brown's Funeral Service. Online condolences can be made at www.brownsfuneralservice.com