Bobbie Lavon Vandenburg of Calera passed peacefully Friday, February 17, 2023 at the age of 66. She was born March 6, 1956 in Durant to Homer and Hazel Irene (Salmon) Vandenburg.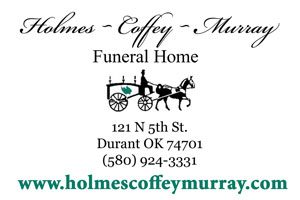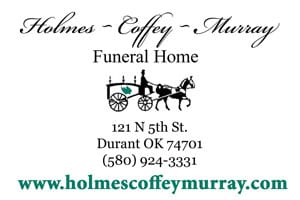 Bobbie worked as a caregiver, taking care of others. She had many interests and hobbies including sewing, woodworking, and painting. She enjoyed the outdoors as much as possible doing activities such as gardening or simply sitting with a cup of coffee and watching TikTok's all day. Bobbie loved to read her Bible and listen to hymns. She greatly loved spending time with all of her grandchildren as well.
Those left to cherish her memory are her sons, Tony Vandenburg and Christi Nicholas of Calera, Okla., Steven Vandenburg and wife Amber of Durant, Okla., Bobby Vandenburg and wife Felicia of Yukon, Okla., and daughters, Jessica Vandenburg of Calera, Okla., and Crystal Snider and husband Gary of Plum Ridge, Texas; brothers, David Allen Vandenburg and wife Brenda Highland Village, Texas and Homer Ray of Bennington, Okla.; sisters, Katherine Elizabeth Dufty of Rye, Colo., and Georgia Vandenburg of Wade, Okla.; grandchildren: Fenix and Asher Vandenburg, Faith and Linda Vandenburg, Logan and Aeris Vandenburg, Payton and Jaydn Gilbert, Casey and Darren Cain, Shacona Vandenburg, Rabecka Vandenburg, Hunter and Hope Vandenburg and Alexis Sullivan; great-grandchildren: Rowan Sage Vandenburg, and Tyler, Orion, and Addam Vandenburg.
She is preceded in death by her parents, Homer and Hazel Vandenburg; her brothers, Larry Wayne and William Lee and her sister, Janie Nell.
A funeral service was held on Friday, February 24, 2023, at Holmes-Coffey-Murray Funeral Home Chapel with Brother Tommy Green officiating. Bobbie will be laid to rest at Bokchito Cemetery following the funeral service.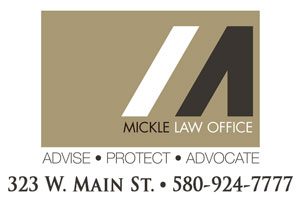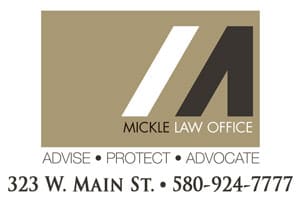 Those serving as pallbearers are Tony Vandenburg, Steven Vandenburg, Bobby Vandenburg, Shacona Vandenburg, Steven Fetty, and Derril Prater.
Services are under the direction of Holmes-Coffey-Murray Funeral Home, 121 N. Fifth Ave. in Durant.
www.holmescoffeymurray.com