Bobbie Jean Simpson was born on November 27, 1931, in Sugar Creek, Okla. to Horace Hatton and Elizabeth Milican Hatton. She was preceded in death by her parents, her husband, Ike Simpson and sister, Delores Barenburg.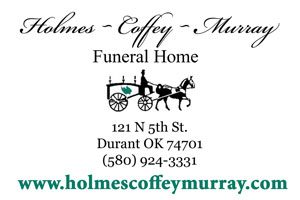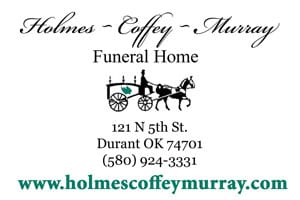 Bobbie was a lifelong resident of Hugo and married the love of her life, Isaac "Ike" Simpson on October 25, 1946, in Paris, Texas.
She worked for many years as an insurance adjuster for the Walter White Insurance Agency. She later retired after many years of service as a social worker for the Department of Human Resources in Hugo. Bobbie was a long-time member of the First United Methodist Church and made sure that her young sons were in church. Ike and Bobbie enjoyed golfing and traveling and loved to follow their sons' athletic careers. She was also an Oklahoma Delegate for the Democratic Party. Bobbie was a very hard worker and enjoyed cooking, sewing, crocheting, and quilting. She was a leader, strong willed and resilient. Bobbie will be missed by all who knew and loved her.
Bobbie is survived by her sons, Mike Simpson of Durant, Okla. and Alan Simpson and wife Kim of Ada, Okla.; seven grandchildren; 20 great-grandchildren, one great-great-grandchild and a host of other family, friends and loved ones.
A service was held in her honor on March 28, 2022.
Arrangements under the direction of Miller and Miller Funeral Home.