Betty Nell (Maupin) was born Thursday, June 28, 1928 in Durant, Okla. She was raised by her adopted parents, Floyd Maupin and Alpha (Blackmon) Maupin. Mrs. Hooper entered into the presence of her Lord on Sunday, October 9, 2022 from Sherman, Texas at the age of 94.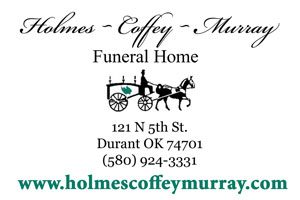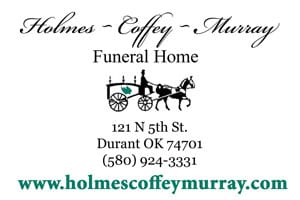 Betty is a 1947 graduate of Durant High School and has lived most of her life in Durant. She married the love of her life, Thurman Hooper, on June 1, 1947 in Durant. He precedes her in death on May 25, 2013. Betty was instrumental in helping Thurman with their family business, Thurman's Sausage Company, which operated from 1954 to 1984 until his retirement. At the beginning, she would sew all the sausage bags at home on her sewing machine, sacking the sausage, and wrapped all the products among many other duties, while being a homemaker and raising their two children.
Betty and Thurman were active members of Fairview Baptist Church from its beginning. Betty taught a Sunday School first grade class for 42 years. She served on several committees and was active in the choir, singing many solos and made many costumes for the cantata. She was a member of the Sew Sew Club which made quilts for the ill.
Betty was very involved in their children's activities: from the PTA organization to being the Den mother in Cub Scout. She also helped raise her grandson Christopher. Betty enjoyed working in her yard and loved flowers, birds, and all nature. She loved being with the whole family on holidays, cooking fantastic meals. She loved people and visiting when she was able. Betty recently moved to Brookdale Assisted Living where she became a welcoming ambassador.
Betty was preceded in death by her biological and adoptive parents; husband; siblings: J.R. Roby, Edna King, Jim Roby, Bessie Campbell and Lavon Dennon.
She is survived by her daughter, Lynda C. Smiley of Durant; son, Steve A. Hooper and his wife, Tracy, of McKinney, Texas; grandchildren, Christopher Smiley and his wife, Sarah, of Tulsa, Okla., Elizabeth Radtke of Shady Shores, Texas, Daniel Hooper of Plano, Texas, and Douglas Hooper of McKinney, Texas; great-grandchildren, Claire Smiley, Olivia Smiley, and Lauren Smiley; brothers, George Rose and his wife, Vivian, and Bob Rose, all of California; along with many nieces, nephews and church family.
Funeral services will be held at 2 p.m. on Friday, October 14, at Fairview Baptist Church with Pastor Bill Ledbetter officiating. Mrs. Hooper will be placed next to her beloved, Thurman, at Highland Cemetery. Casket bearers will be Daniel Hooper, Douglas Hooper, Christopher Smiley, and men from the church.
Arrangements under the direction Brown's Funeral Home.