Sponsor | Stu B Que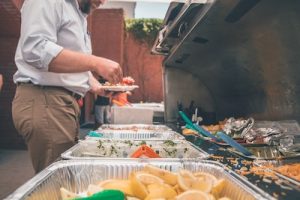 If you're looking for BBQ catering in Broken Arrow, OK, contact Stu B Que today. Owned and operated by Stu Conrad, Stu B Que provides catering services for many different types of events and gathering in and around the Tulsa Metropolitan area. They are best known for their tasty BBQ catering that is all hand-cooked and prepared.
If you're looking for dining options for your event, Stu B Que provides a catering option and a food truck option. They can fit the needs of your event and your audience.
Stu B Que provides clients with a trustworthy and reliable Broken Arrow catering service. Stu B Que can work with you to find a menu that works within your budget. Stu B Que is dedicated to providing you with premier BBQ catering services without any of the stress or hassle.
Areas of Focus
Stu B Que can provide delicious food for any occasion. Whether you have a large event or a small gathering, a wedding or an office party, Stu B Que will put the same effort into each meal they prepare and every occasion they serve. Here is a list of their areas of focus:
When planning an event, there are a lot of moving parts to plan out that can easily become stressful. Stu B Que can take the catering aspect off of your plate so you won't have to worry about it any longer. Customers have many great things to stay about Su B Que and the food they provide. To read what people are saying, click here.
Stu B Que
4920 E Kenosha St Broken Arrow, OK 74014
(918) 724-7886
Want to know more about what's going on in Bryan County? Click here.