A.G. Alexander, Jr. was born July 11, 1933 in Mead, Okla., to Albert G. Alexander and Lessie Frances Alexander. He passed away Friday, July 7, 2023 at Texoma Medical Center at the age of 89 years old.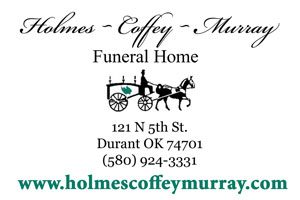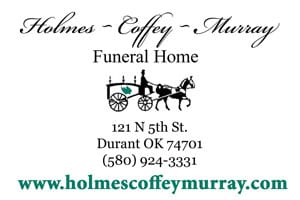 A.G. attended school in Mead, Okla. On June 20, 1953, he married the love of his life, Vivian Louise (Lou) Pate. They recently celebrated their 70th wedding anniversary. A.G. served his country in the U.S. Army from July 15, 1953, where he was stationed in Germany, until his discharge on May 19, 1955, with the rank of private first class. He was an avid gardener and enjoyed working on his antique tractors.
He is survived by his wife of the home, Vivian Louise (Lou) Alexander, his daughter Alicia MacEntire of Mead, Okla., his son David Alexander and wife Donna of Mead, Okla., as well as his five grandchildren, and his nine great-grandchildren.
Those preceding him in death are his parents Albert and Lessie Alexander, and one sister Cornelia Jo King.
A graveside service was held on Wednesday, July 12, 2023, at Rosehill Cemetery in Calera, Okla., with Brother Logan Cates officiating.
A.G.'s grandchildren served as his pallbearers.
Services are under the direction of Holmes-Coffey-Murray Funeral Home, 121 N. Fifth Ave. in Durant, Okla.