Vernon A. Anderson, a resident of Blue, Okla. and veteran of the United States Army, left this life in Denison, Texas on Nov. 3, 2019 at the age of 96. He was born to Charles Thurman Anderson and Louisa (Norton) Anderson on October 30, 1923.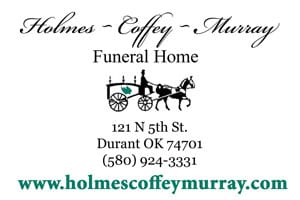 Vernon proudly served his country in the United States Army Infantry as a Private First Class during WWII in Normandy, the Rhine, Northern France, Germany and Central Europe, earning one purple heart with an oak leaf cluster for his courage.
After the Army Vernon became a teacher and taught Business and Social Studies classes for 13 years. He later became the Achille superintendent for 22 years while serving on many board and committees for Bryan County such as: Bryan County Ambulance Board, 36 years; Kiamichi Vocational Technology Center, 22 years; Bryan County Cattlemen's Association, 13 years; Bryan County Soil Conservation Board, Southern Oklahoma Development Association and Bryan County Baptist Executive Board.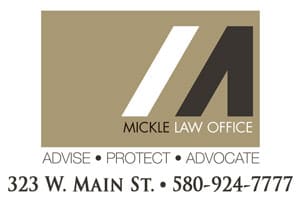 He dedicated his life to working his ranch and caring for his beloved family. Vernon loved to play games, especially dominoes. He enjoyed being outside during hunting season, riding four wheelers, and producing an abundance of vegetables in his garden.
Mr. Anderson is survived by his beloved wife, Betty Anderson of the home; children, Vernon Dale Anderson of the home and Jimmy David Anderson and wife Wanda of Coleman, Okla.; grandchildren, David, Justin, Nathan, and Jacob Anderson; great-grandchildren, Brittany, Logan, Aubree, Ryleigh, and Milo Anderson; sister, Claudene Hardy and husband Bob of Marlow, Okla. and also survived by several nieces and nephews.
Mr. Anderson was preceded in death by his parents, Charles and Louisa Anderson; and several brothers and sisters.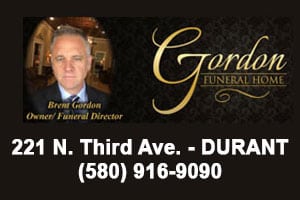 A celebration of his life was held on Wednesday, Nov. 6, 2019 at the Blue Baptist Church in Blue, Oklahoma with Randy Lewis and Norman Ford officiating. His final resting place is the Highland Cemetery in Durant, Okl. with David Anderson, Justin Anderson, Nathan Anderson, Jacob Anderson, Logan Anderson, and John Coker as his pallbearers. The honorary pallbearer is Milo Anderson.
Services are under the direction of Holmes~Coffey~Murray Funeral Home in Durant, Okla. www.holmescoffeymurray.com