Ray G. Parker, of Bokchito, Okla., passed from this life and heaven received him on Saturday, Oct. 5, 2019 at his home in Bokchito at the age of 86. He was born on Sunday, Jan. 15, 1933 in Apache, Okla. to Leonard A. and Bessie (Jackson) Parker.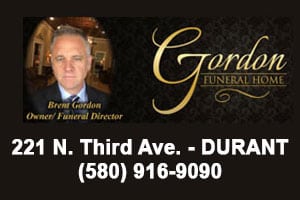 He married Betty Joyce Dixon on June 17, 1961 in El Reno, Okla.
Ray enjoyed playing his guitar, traveling and preaching and teaching God's Word. He traveled the country with his wife, Joyce, of 58 years, spreading God's love as far East as Israel, south to Jamaica and north to Alaska. He taught all of his children his love for music and how to play instruments from the bass, guitar, piano, drums, and mandolin. He loved his family with all of his heart.
He served eight years in the United States Marine Corp Platoon 343 San Diego, of which 13 months was spent fighting in the Korean War on the front line in charge of a tank. Momma asked him once, "Where you ever afraid?" He replied, "There was nothing to be afraid of. All of the weapons they had were inferior to ours." They came home victorious.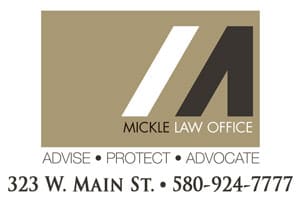 He was preceded in death by his parents Leonard and Bessie Parker and 18 siblings
Survivors include: wife, Joyce Parker of Bokchito, Okla.; son, Gene Parker, of Valliant, Okla.; daughter, RayChel Barnard (Shelly), of Moore, Okla.; son, Michael Parker of Bokchito, Okla.; 10 grandchildren: Davina Sorenson, Destiny Noland, Telisa Blundell, Sabrina North, Preston Barnard, Matthew Parker, Jaron Barnard, Aubrie Turner, Dusty Barnard and Sawyer Barnard; 12 great-grandchildren: Megan Stubblefield, Nathan Stubblefield, Colton Sorenson, Theodore Barnard, BaLee Noland, BritLee Noland, BrendLee Noland, Anthony Turner, Haygen Turner, Julia Turner, Easton Barnard and Case Barnard.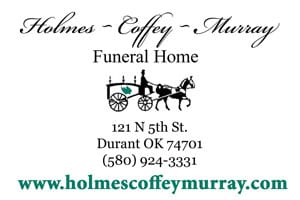 A family hour will be held from 6-7 p.m. Friday, Oct. 11, 2019 at Gordon Funeral Home. A funeral service will be held at 2 p.m., Saturday, Oct. 12, 2019 at the Monterey Chapel, 224 S. Ninth Ave. in Durant, Okla. with Bro. Doug Tyner and Bro. David Gregg officiating. Military honors will follow at the Bokchito Cemetery with Matthew Parker and Jaron Barnard serving as honorary pallbearers.
Arrangements are under the direction of Gordon Funeral Home, 221 N. Third Ave. in Durant.
Phone: (580) 916-9090
www.gordonfh.com