L.C. Gardner was born on Dec. 30, 1921 in Bennington, Okla. to William and Zora (McDonald) Gardner. L.C. passed from this life into the arms of his heavenly father on Sept. 9, 2019 in Durant, Okla. at the age of 97.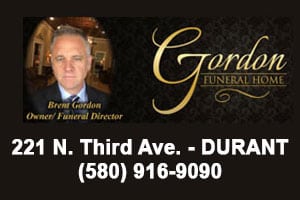 A lifelong resident of Bryan County, L.C. graduated from Bennington High School. L.C. went to Old Church Elementary until the eighth grade and then went on to Bennington High School where he graduated. L.C. then went to Bacone College but was unable to finish due to enlisting in the Army for WWII. L.C. enlisted in the United States Army on May 22, 1942. He proudly served beside General Patton and received a Good Conduct Medal EAME Service Ribbon with Four Bronze Service Medals. L.C. was honorably discharged on Oct. 26, 1945.
Upon returning from the War, L.C. returned to the family homestead in Bennington. Due to financial reasons which included lots of sickness in the family, L.C. took a job at Ford Motor Company in Dallas in 1953. He worked there until the plant closed in 1970. He was given special retirement. He had too much time to be dismissed but did not meet the age plus retirement years equal 55 rule.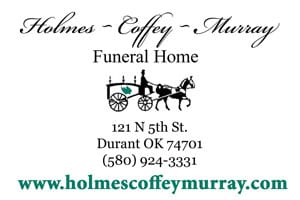 L.C. married the love of his life Lila, and they were blessed with many years together until her passing. In 1973, they returned to Bokchito where L.C. took a job with State of Oklahoma Dept. of Transportation. He worked on the Floating Crew which went anywhere in the nine southeastern counties and was known as the Special Emergency Maintenance Crew. He moved back to Bennington in 1975 and continued to work for ODOT until March 1984.
In 2018 L.C. moved to Featherstone Assisted Living and lived there until his passing. He immediately adjusted there and was so very fond of all the staff there. He knew he could count on a peanut butter and jelly sandwich if he wasn't fond of what was on the menu for the day.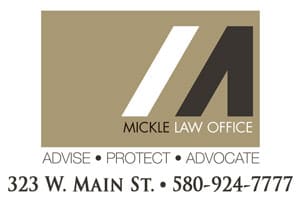 He was a member of the Bennington First Baptist Church, proud member of the Choctaw Nation and a distinguished Mason. L.C. loved trains, ranching and cattle.
L.C. is survived by his granddaughter, Janice Bates and significant other Tracy Byrum; granddaughter Susan Bates and significant other Jerry Russell; son, James Bates and wife Shirley; granddaughter, Rhonda Bates; step-son, David Middaugh; daughters, Linda and Diane Simpson;
granddaughter, Lisa; grandson, Clint; great-granddaughter, Brandy Green; great-great-grandchildren, Harleigh Tucker and Tripton Callicoat.
LC was preceded in death by his parents; wife and eight siblings.
Funeral services will be held at 10 a.m. Thursday, Sept. 12, 2019 at the Bennington First Baptist Church. Pastor Ryan Perry will officiate. Interment with Military Honors and Masonic Rites will follow in Old Bennington Presbyterian Church Cemetery with Ben Veenstra, David Cathey, Shane Walker, Jesse Petty, Joey Tucker and Doc Helton serving as pallbearers. The family will receive friends at the Funeral Home on Wednesday evening from 6-8 p.m.