JC "Burr" DaVault a resident of Mead, Okla. passed from this life in Durant, Okla. on Sunday, April 21, 2019 at the age of 79. He was born in Durant to Jake Cleburne DaVault and Florence Lorene (Tubbs) DaVault on Nov. 1, 1939. JC married Bobbie Thomas in McKinney, Texas.
JC was a man who knew how to work hard, and he dedicated his life to his plumbing business, farming his land, and working with horses. He was a simple man that had an easy-going nature, and he cherished his family especially his grandkids. JC enjoyed the excitement of going to Las Vegas. He was a member of the Mead Baptist Church.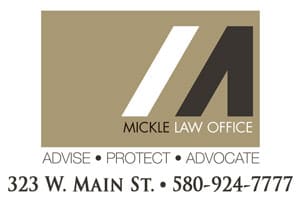 Mr. DaVault is survived by his beloved wife Bobbie of the home: sons, Jerry DaVault (Vicky) of Grand Prairie, Texas and David DaVault (Elaine) of Rowlett, Texas: grandkids, Joshua DaVault (Crystal) of Calera, Okla., and Justin DaVault of Mead, Okla., Ashley DaVault and significant other Jeff Davidson of Keller, Texas, Brittany Johnson (Matt) of Japan, Jake DaVault, Sean DaVault, Drew DaVault of Rowlett, Texas, and: great-grandkids, Josh, Cadee, Jace, Skylar, Bryce, Cheyenne, and Charlette: siblings, Ellen Morgan of Mead, Okla., Aileen Pratt of Durant, Okla., John DaVault of Durant, Okla., Polly Atkinson of Ruidoso, N.M, and Mike DaVault of Burleson, Texas; and also survived by numerous nieces and nephews.
Mr. DaVault was preceded in death by his parents: and siblings, Delpha Townsend, Judy Curtis, Faye McLarry, and Dorothy Dixon.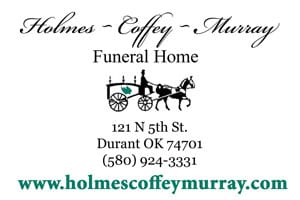 Family hour will be from 7-8 p.m. Thursday, April 25 at the Mead Baptist Church in Mead, Oklahoma. The service will be Friday, April 26 at 10 a.m. at the church with Rev. Kerry Groce officiating. Burial will follow at the Mead Cemetery. JC's pallbearers will be Justin DaVault, Joshua DaVault, Daniel Woods, Scott Pratt, Gary Dale Travelstead, Jerry Chandler, Terry Morgan, and Rick Morgan. His honorary pallbearers will be Sean DaVault, Drew DaVault, Jake DaVault, Jessen Pratt, and Preston Pratt.
Services are under the direction of Holmes~Coffey~Murray Funeral Home in Durant. www.holmescoffeymurray.com